Habitat for Humanity of Greater Los Angeles Welcomes Jim Bizzelle and Dawkins Hodges to its Senior Leadership Team
 Los Angeles, CA (September 2, 2016) – Habitat for Humanity of Greater Los Angeles (Habitat LA), the top nonprofit homebuilder in the greater Los Angeles area, has named Jim Bizzelle as Senior Vice President of Community Development and Dawkins Hodges as Vice President of Programs. Bizzelle will oversee all construction and real estate activities for Habitat LA, which currently builds an average of 100 homes in the Los Angeles region each year and aims to increase production by 2020 as part of its Building a Greater Los Angeles campaign. Hodges will focus on driving the overall strategy for Habitat LA's homeownership, home preservation and community engagement programs in support of Habitat LA's mission to bring people together to build homes, community and hope. Both appointments reflect Habitat LA's commitment to building strength and stability in communities across greater Los Angeles through increased access to affordable homeownership and home repair.
"I am excited about the fresh perspective and wealth of experience that Jim and Dawkins bring to Habitat LA," says Erin Rank, Habitat LA President/CEO. "As we expand our homebuilding and neighborhood revitalization efforts, their expertise will be invaluable."

Bizzelle's extensive experience in community development includes a 23-year tenure at Pardee Homes, where he progressed through many roles and ultimately into his last position as Vice President of Community Development for their Los Angeles/Ventura division. He went on to serve five years as Senior Vice President of Community Development at Newhall Land. Most recently, he held the role of interim President and CEO of Santa Clarita Valley's Chamber of Commerce.
Bizzelle is a graduate of Seattle Pacific University, where he earned his degree in accounting and finance. He also holds graduate program designations from UCLA and USC as well as a real estate license. Bizzelle is a 20 year resident of the Santa Clarita Valley and has contributed his time to several organizations including serving as President and Board Member of the Building Industry of Southern California, Board Member of the Santa Clarita Valley Senior Center and Boys and Girls Club and a volunteer at Rain Shelter and Carousel Ranch.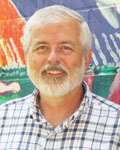 Hodges has over 30 years of experience in community development and more than 25 years of experience with community and housing organizations. He has held roles as the Executive Director for NeighborWorks in San Bernardino and as the Executive Director of Chatham Habitat for Humanity in North Carolina. In his last position, he worked for the U.S. Department of Housing and Urban Development as a Senior Technical Assistance Expert. His specialty is in the design and delivery of programs for homeownership and rehabilitation of single-family properties. His career in housing and community development has produced 1,650 first-time low and moderate-income homeowners, 900 rehabilitated houses and 125 Youthbuild graduates resulting in more than $350 million in community and economic impact.
Hodges was ordained as a Presbyterian minister and has his BA in Religion from N. Carolina Wesleyan College and Master in Divinity from Union Presbyterian Seminary. He also has an executive certificate in Community Development from Harvard University. In 2012, he led a Global Village trip to Bangladesh to help build ten houses with Habitat for Humanity.
About Habitat for Humanity of Greater Los Angeles
Habitat for Humanity of Greater Los Angeles (Habitat LA) brings people together to build homes, communities and hope. As the top nonprofit homebuilder in the greater Los Angeles area with five consecutive Charity Navigator 4-Star ratings, Habitat LA has partnered with volunteers, donors and Habitat homeowners to build, renovate and repair more than 1,000 homes locally and worldwide since 1990. The lives of thousands of individuals have been transformed as a result of having a decent and affordable place to call home. Habitat homeowners help build their own homes and pay an affordable mortgage. By supporting Habitat LA through volunteerism, donations and supporting affordable housing, everyone can help families achieve the stability and self-reliance they need to build a better future. To learn more, visit habitatla.org
Media Contact:
Ali Mullin
Habitat for Humanity of Greater LA
(310) 502-1269
amullin@habitatla.org