Annual Event will Honor Trammell Crow, Delta Air Lines and Mauricio Umansky on October 13th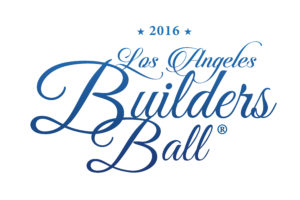 Los Angeles, CA (September 21, 2016) –      Habitat for Humanity of Greater Los Angeles (Habitat LA) will host its annual Los Angeles Builders Ball® on Thursday, October 13th, 2016 from 6pm – 9pm at the Beverly Wilshire Hotel. This year, Habitat LA will proudly honor Trammell Crow, Delta Air Lines and Mauricio Umansky who all share Habitat LA's commitment to community focused building in an effort to change the landscape of Los Angeles for the better. In addition to recognizing Habitat LA's counterparts in the building and real estate industries, this event will also raise funds and awareness for the nonprofit's Building a Greater Los Angeles campaign to revitalize distressed communities throughout Los Angeles and provide hope for low-income families living in substandard housing.
Habitat LA will honor Trammell Crow, a preeminent commercial builder and developer demonstrating creativity and innovation in the Los Angeles building industry, with a Builder of the Year award. Delta Air Lines will be honored with the Foundation Builder award for their instrumental role in neighborhood revitalization in the city of Los Angeles as well as their commitment to volunteerism and advocacy for affordable housing solutions. The Dream Builder honoree will be Mauricio Umansky, founder and CEO of The Agency, whose passion for real estate extends beyond the luxury market and into creating more affordable homeownership opportunities in the local community and worldwide.
Featured at the Los Angeles Builders Ball® will be a VIP reception, followed by dinner, a live auction and special musical performance. The 15 homes that were completed on Santa Ana Blvd. in Watts during the 1995 Carter Work Project and the 32 families who now call this neighborhood home will be celebrated at this year's event along with the two families in the neighborhood who have recently paid off their mortgages. The keynote speaker, Jose Tobar, grew up in one of the Carter Work Project homes and will share his family's transformative story.
Habitat LA has built, renovated or repaired more than 750 homes locally, helping to transform the lives of more than 4,000 Angelenos. By 2020, Habitat LA has a goal to invest $100 million into revitalizing neighborhoods and increasing access to affordable homeownership and home repair opportunities. This investment will benefit the local economy by building strong and stable homes in partnership with families, individuals, volunteers, municipalities and donors, which will bring strength and stability to local communities throughout greater Los Angeles.
2016 Builders Ball Honorary Committee:
Hon. Ben Allen
CA State Senate, D-26
Hon. Art Barajas
Mayor of Montebello
Hon. Karen Bass
U.S. House of
Representatives, D-37
Hon. Xavier Becerra
U.S. House of
Representatives, D-34
Hon. Richard Bloom
CA State Assembly, D-50
Hon. Aja Brown
Mayor of Compton
Hon. Autumn Burke
CA State Assembly, D-62
Hon. James T. Butts
Mayor of Inglewood
Hon. Ian C. Calderon
CA State Assembly, D-57
Hon. Ed Chau
CA State Assembly, D-49
Hon. Jim B. Clarke
Mayor of Culver City
Hon. Kevin De Leon
California Senate
President Pro Tempore
W.H. (Bill) De Witt
Mayor of South Gate
Hon. Dianne Feinstein
U.S. Senator for California
Hon. Eric Garcetti
Mayor of Los Angeles
Hon. Cristina Garcia
CA State Assembly, D-58
Hon. Robert Garcia
Mayor of Long Beach
Hon. Mike A. Gipson
CA State Assembly, D-64
Hon. Jimmy Gomez
CA State Assembly, D-51
Hon. David Hadley
CA State Assembly, D-66
Hon. Janice Hahn
U.S. House of
Representatives, D-44
Hon. Isadore Hall, III
CA State Senate, D-35
Hon. Edwin Hernandez
Mayor of Lynwood
Hon. Reggie Jones-Sawyer
CA State Assembly, D-59
Hon. Don Knabe
LA County Supervisor, D-4
Hon. Dan Koops
Mayor of Bellflower
Hon. Sheila Kuehl
LA County Supervisor, D-3
Hon. Ricardo Lara
CA State Senate, D-33
Hon. Alan Lowenthal
U.S. House of
Representatives, D-47
Hon. Tony Mendoza
CA State Senate, D-32
Hon. Holly Mitchell
CA State Senate, D-30
Hon. Grace Napolitano
U.S. House of
Representatives, D-32
Hon. Sebastian
Ridley-Thomas
CA State Assembly, D-54
Hon. Lucille Roybal-Allard
U.S. House of
Representatives, D-40
Hon. Alex Saab
Mayor of Downey
Hon. Linda Sanchez
U.S. House of
Representatives, D-38
Hon. Miguel Santiago
CA State Assembly, D-53
Hon. Adam Schiff
U.S. House of
Representatives, D-28
Hon. Maxine Waters
U.S. House of
Representatives, D-43
Angela Bassett
Actress/Director
Kristen Bell
Actress
Cari Champion
Sports Center Anchor
Keith David
Actor/Musician
A.C. Green
Former LA Laker
Tina Knowles Lawson
Designer/
Businesswoman
Richard Lawson
Actor/Producer
Kate Linder
Actress
Lisa LoCicero
Actress
James Pickens, Jr.
Actor
Paula Poundstone
Comedian
Holly Robinson-Peete
Actress/Author
Los Angeles Sparks
WNBA Basketball Team
Luc Robitaille
Los Angeles Kings
Kelly Rowland
Musician/Actress
Dax Shepard
Actor
John Terzian
H.Wood Group
Glynn Turman
Actor/Director
Courtney B. Vance
Actor
Kim Whitley
Comedian/Actress
2016 Builders Ball Host Committee:
Raul Salinas, AlvaradoSmith & LA Builders Ball® Co-Chair
Maria Salinas, ProAmerica Bank & LA Builders Ball® Co-Chair
Michelle Blay, Sedgwick LLP
Brad Cox, Trammell Crow Company
Lalo Diaz, Travers Cresa
Anthony Salcido, Toyota Motor Sales, U.S.A., Inc.
Jocelyn Topolski, Bernards
Mary Leslie, Los Angeles Business Council
John Manganiello, Bank of America Merrill Lynch
Michelle Meghrouni, Southern California Gas Company
Michael Flad, City of South Gate
Terri Haack, Terranea Resort
Janine Hamner, Waste Management
Carl Jordan, U.S. Bank
Top corporate underwriters of this event include Delta Air Lines and U.S. Bank.
Sponsorships and individual tickets are available and can be purchased online, or by contacting Patty Lee, Habitat LA Associate Director of Special Events, at plee@habitatla.org or 424.246.3178.
About Habitat for Humanity of Greater Los Angeles
Habitat for Humanity of Greater Los Angeles (Habitat LA) brings people together to build homes, communities and hope. As the top nonprofit homebuilder in the greater Los Angeles area with five consecutive Charity Navigator 4-Star ratings, Habitat LA has partnered with volunteers, donors and Habitat homeowners to build, renovate and repair more than 1,200 homes locally and worldwide since 1990. The lives of thousands of individuals have been transformed as a result of having a decent and affordable place to call home. Habitat homeowners help build their own homes and pay an affordable mortgage. By supporting Habitat LA through volunteerism, donations and supporting affordable housing, everyone can help families achieve the stability and self-reliance they need to build a better future. To learn more, visit habitatla.org
Contacts:
Habitat for Humanity of Greater Los Angeles – Ali Mullin amullin@habitatla.org (310) 502-1269
Media Inquiries – EMC|Bowery / 323.857.0007
Ben Russo – ben@emcbowery.com
Shae Savin – shae@emcbowery.com
Dianne Quirante – Dianne@emcbowery.com