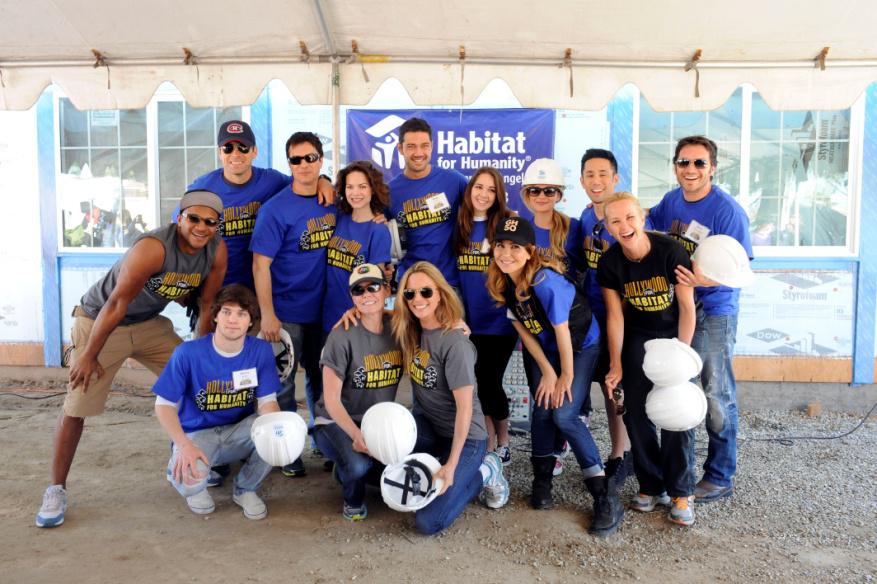 LOS ANGELES (March 4, 2015)– Habitat for Humanity of Greater Los Angeles (Habitat LA) is proud to announce the 6th Annual General Hospital Fan Build Day, which is set to take place on a Habitat LA build site on April 18, 2015, from 9 a.m. to 3p.m. This annual build day gives fans of the classic ABC drama the chance to mingle and collaborate with their favorite General Hospital actors as they help to build Habitat LA homes. An added benefit that the fans and actors look forward to year after year, is getting to work alongside a hardworking, low-income partner family or individual.
Due to the popularity of this event, build spots fill very up quickly. This year, there will be 20 build spots available. Fans can now register for the build event and are encouraged to do so as soon as possible (registration is now closed).
Registration for the General Hospital Fan Build is a donation of $275, which covers breakfast, lunch and a commemorative t-shirt. Fans who wish to contribute more than the minimum donation of $275 will have a chance to win special prizes.
General Hospital cast members Lisa LoCicero, who plays Olivia Falconeri, and Dominic Zamprogna, who plays Dante Falconeri, are co-hosting this year's build event. More cast members plan to join them and attendance will be confirmed closer to the build day.
Habitat LA partner homeowners are hardworking, low-income individuals and families who are simply in need of a hand up, not a hand out. Partner homeowners agree to pay back a zero-interest mortgage and contribute 200-500 hours of sweat equity volunteering with Habitat LA. Many of our partner homeowners serve greater Los Angeles as teachers, healthcare workers, government employees and members of the small business community.
About Habitat for Humanity of Greater Los Angeles
Habitat for Humanity of Greater Los Angeles (Habitat LA) strives to eliminate substandard housing through advocacy, education and partnership with families and individuals in need to build decent, sustainable and affordable housing. Since 1990, Habitat LA has built and renovated more than 1,000 homes locally and worldwide, transforming the lives of thousands of individuals. Habitat LA is a Guide Star® Valued Partner and has four consecutive Charity Navigator 4-Star ratings awarded to non-profits for sound fiscal management and commitment to accountability and transparency. Habitat for Humanity International recognized 14 affiliates out of more than 1400 as Affiliates of Distinction for 2015-2017 and Habitat LA is proudly one of them. For more information, please visit www.habitatla.org or call 310-323-4663.
Media Contact:
Jo-An Turman
Habitat for Humanity of Greater LA
(310) 749-6613
jturman@habitatla.org