More than 200 Women Volunteers to Begin Framework for Four New Habitat Homes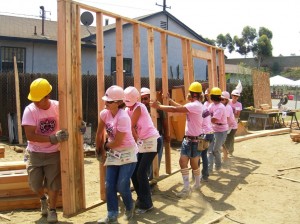 Los Angeles, CA – June 4, 2014: Habitat for Humanity of Greater Los Angeles' (HFH GLA) Power Women Power Tools (PWPT) build event turns ten this year and more than 200 volunteers are expected to join in the celebration. The all-women crew of volunteers will be framing walls for four new sustainable, affordable homes in Lynwood, as part of a seven-home neighborhood currently in progress. HFH GLA is pleased to welcome back Lowe's, Union Bank and Sony Pictures Entertainment as the primary supporters of this event.
Power Women Power Tools attracts hundreds of professional women from various sectors, including corporate, entertainment, education and faith to build homes side by side with HFH GLA partner homeowners. Since 2005, 2,500 PWPT volunteers have helped build 68 homes locally and also have framed walls for two homes that were shipped to the hurricane-ravaged Gulf region.
"As I reflect on the past ten years of Power Women Power Tools I am reminded of the thousands of women who have given their time, talent and support to grow this event into what it is today," says Erin Rank, president and CEO, HFH GLA. "This event is equally special to those of us who participate as it is to those who benefit. I am extremely proud of the relationships we have forged, the homes we have built, and the legacy we will leave for generations."
Every PWPT is highlighted by powerful stories shared by female partner homeowners during the morning and afternoon programs. This year volunteers will hear from Toshia Williams, who has the distinction of being the first Habitat for Humanity homeowner in Los Angeles to pay off her mortgage; and Roxanna Gomez, one of the newly selected homeowners for this Lynwood neighborhood who is also a United States Air Force Veteran and single mom.
Confirmed Power Women Power Tools Hosts:
• Maureen Ausura, Chief Human Resources Officer, Lowe's
• Janine Sherman Barrois, Producer/Writer, Criminal Minds
• Susan Booth, Partner, Holland & Knight LLP
• Melanie Cook, Partner, Ziffren Brittenham LLP
• Cindy Hoag, Founder, Beach Cities Friends of Habitat for Humanity
• Erin McConahey, Principal, Arup
• Stacy McDaniel, Founder, the Leila Fund
• Nichol Whiteman, Executive Director, Los Angeles Dodgers Foundation
Confirmed Power Women Power Tools Honorary Host Committee:
• Dotsie Bausch, Olympic Silver Medalist, Cycling
• Camilla Belle, Actress
• First Lady Mae L. Blake, West Angeles Church God In Christ
• Carol Block, Associate of the Chancellor, UCLA
• Cher Calvin, Journalist, KTLA
• Sherry Caraway, Program Manager, The Home Depot Foundation Western Division
• Tia Carrere, Actress
• Caroline Choi, VP, Integrated Planning and Environmental Affairs, Southern California Edison
• Kristina Guerrero, Correspondent, E! News
• Rabbi Nicole Guzik, Sinai Temple
• Terri Haack, EVP & Managing Director, Terranea Resort
• Hon. Janice Hahn, U.S. House of Representatives, CA-44
• Gale Anne Hurd, CEO, Valhalla Entertainment
• Tracy Hutson, TV Personality & Designer
• Eva Kalawski, Partner & General Counsel, Platinum Equity
• Kate Linder, Actress
• Jennifer Livingston, SVP, Division Manager, Union Bank
• Lisa LoCicero, Actress
• Hon. Bonnie Lowenthal, CA State Assembly Member, 70th District
• Alexandra McLeod, Television Host
• Kim McManus, Executive Director, Awaken Humanity
• Maria Menounos, Actress & Correspondent
• Hon. Grace F. Napolitano, U.S. House of Representatives, CA-32
• Jayne Parker, EVP & Chief Human Resources Officer, The Walt Disney Company
• Monica Potter, Actress
• Pat Prescott, Radio Personality, 94.7 The WAVE
• Lori Raya, President, Vons, a Safeway Company
• Hon. Lucille Roybal-Allard, U.S. House of Representatives, CA-40
• Hon. Meghan Sahli-Wells, Mayor of Culver City
• Tiffani Thiessen, Actress
• Roberta Turner, Partner, Turner & Adams LLP
• Hon. Maxine Waters, U.S. House of Representatives, CA-43
• Danielle Zapotoczny, Strategic Advisor to the UN Creative Community Outreach Initiative & Sr. Director of Global Partnerships for the UN Foundation
Power Women Power Tools is an invitation-only event and additional sponsorship opportunities are available. To inquire about opportunities to partner with HFH GLA and support this event, please contact Jennifer Wise at jwise@habitatla.org.
Please follow #PWPT14, @HabitatLA
About Habitat for Humanity of Greater Los Angeles: Habitat for Humanity of Greater Los Angeles (HFH GLA) strives to eliminate substandard housing through advocacy, education and partnership with families and individuals in need to build decent, sustainable and affordable housing. Since 1990, HFH GLA has built and renovated more than 900 homes locally and worldwide, transforming the lives of hundreds of individuals. HFH GLA is a GuideStar® Valued Partner and has achieved the coveted Charity Navigator 4-Star rating awarded to non-profits for sound fiscal management and commitment to accountability and transparency. For more information, please visit http://habitatla.org or call 310-323-4663.
# # #
Media Contacts:
Jo-An Turman, HFH GLA
T: 310-749-6613
jturman@habitatla.org
Angela Moore,
Starfish P.R.
T: 310-429-8868
angela@starfish-pr.com