Habitat organizations across the country are mobilizing to influence policy and system changes at the federal, state and local levels
[Los Angeles, CA] (June 12, 2019) — Nearly 19 million households across the United States are spending at least half of their income on a place to live, often forgoing basic necessities such as food and health care to make ends meet. Los Angeles is the least affordable housing market in the United States and the stability that housing should bring continues to remain out of reach for many people.
On Wednesday, Habitat LA joined Habitat organizations across the country to launch a new national advocacy campaign aimed at improving home affordability for 10 million people in the U.S. over the next five years.
Marking significant growth in Habitat's commitment to ensuring that everyone has a safe and decent place to call home, the Cost of Home campaign seeks to identify and improve policies and systems through coordinated advocacy efforts at the local, state and federal levels.
Cost of Home focuses on improving housing affordability across the housing continuum in four specific policy areas: increasing supply and preservation of affordable homes, equitably increasing access to credit, optimizing land use for affordable homes, and ensuring access to and development of communities of opportunity.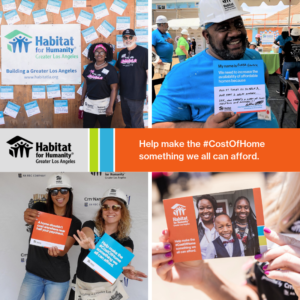 Habitat LA already has taken several steps toward these goals. In May 2019, Habitat LA partnered with four of the nation's top construction companies (Clark Construction, Gilbane Building Company, Turner Construction Company, and The Whiting-Turner Contracting Company) to build four new homes in just 11 days for future Habitat homeowners in the Willowbrook area (119th Street) of the city of Los Angeles. On June 7 and 8, 2019 – Habitat LA launched the Cost of Home campaign at the annual Hollywood Build event, shining the spotlight on affordable housing with more than 300 entertainment industry executives, celebrities, corporate leaders, government officials, faith groups, and community stakeholders who worked side-by-side with current and future Habitat LA homeowners to help construct a 10-home community in Culver City.
During the event, volunteers completed hundreds of postcards to local policy makers, advocating for expanded state and federal funding for affordable housing. The event raised nearly $300,000 that will help Habitat LA build, rebuild or repair over 100 homes this year to address the housing affordability crisis.
"Habitat LA works each day to solve the affordability crisis through permanent solutions for our partner homebuyers," said Erin Rank, President and CEO of Habitat LA. "We have a successful model at Habitat LA and have less than 1% default rate nationwide on our mortgages. We invest in families who wouldn't qualify to buy houses through the traditional lending model and we use those mortgage payments to help more families move into affordable housing. Our model helps families pay it forward."
More details about Habitat's Cost of Home policy platform and campaign activation are available at habitat.org/costofhome. For more information or to speak to Habitat LA about the campaign, please contact Genetric Brown at gbrown@habitatla.org or (310) 808-5902.
About Habitat for Humanity of Greater Los Angeles
Habitat for Humanity of Greater Los Angeles (Habitat LA) brings people together to build homes, communities and hope. As the top nonprofit homebuilder in the greater Los Angeles area with five consecutive Charity Navigator 4-Star ratings, Habitat LA has partnered with volunteers, donors and Habitat homeowners to build, renovate and repair more than 1,300 homes locally and worldwide since 1990. the lives of thousands of individuals have been transformed as a result of having a decent and affordable place to call home. Habitat homeowners help build their own homes and pay an affordable mortgage. By supporting Habitat LA through volunteerism, donations and supporting affordable housing, everyone can help families achieve the stability and self-reliance they need to build a better future. To learn more, visit www.habitatla.org.
Contacts:
Genetric Brown
Habitat LA
310-808-5902
gbrown@habitatla.org
Angela Moore
Starfish PR
310-429-8868
angela@starfish-pr.com