Block Party Celebration Took Place Friday, October 2nd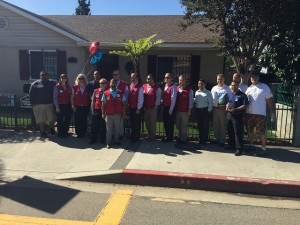 Los Angeles, CA (October 06, 2015) – Habitat for Humanity of Greater Los Angeles (Habitat LA) and Lowe's are longtime partners in building stronger communities and recently helped 12 homeowners in Los Angeles make their homes more water efficient. Over the course of two weeks, more than four-hundred Lowe's employee volunteers spent over 5,000 volunteer hours changing lawns to synthetic grass and mulch, planting drought tolerant plants, as well as installing new low-flow toilets and shower heads. During a block party on Friday, October 2nd, Habitat LA, Lowe's and the local community celebrated the project's completion.
Lowe's launched this project as part of California's continued efforts to conserve water, specifically the City of Los Angeles' campaign to "Save the Drop." Los Angeles Mayor Eric Garcetti supported the project and his Chief Sustainability Officer and Habitat LA Board Member, Matt Petersen, attended the recent block party.
"I'm proud to announce that Habitat for Humanity of Greater Los Angeles has adopted the pLAn  and is joining my fight to build a sustainable LA by committing to up to 1,000 water-wise upgrades for low income homeowners in South LA and across Los Angeles," said Mayor Eric Garcetti. "Together with Lowes Home Improvement, they have kicked off this initiative fittingly with water conservation upgrades for 12 Habitat homes in the Watts/Willowbrook neighborhood, helping our neighbors save over 318,000 gallons of water and more than $100 on their yearly water bills."
In addition to helping low-income families and individuals with water-efficiency upgrades, Habitat LA is also educating and engaging them with water conservation tips as part of WaterWise Homes™.
"Thanks to companies like Lowe's we are able to help hardworking homeowners save money and water while taking positive steps forward in building a greener and greater Los Angeles," says Erin Rank, Habitat LA President and CEO.
To view photos of the completed homes and block party, click HERE.
About Habitat for Humanity of Greater Los Angeles
Habitat for Humanity of Greater Los Angeles (Habitat LA) strives to eliminate substandard housing through advocacy, education and partnership with families and individuals in need to build decent, sustainable and affordable housing. Since 1990, Habitat LA has built, rehabilitated and repaired more than 1,000 homes locally and worldwide, transforming the lives of thousands of individuals. Habitat LA is a Guide Star® Valued Partner and has four consecutive Charity Navigator 4-Star ratings awarded to non-profits for sound fiscal management and commitment to accountability and transparency. Habitat for Humanity International recognized 14 affiliates out of more than 1400 as Affiliates of Distinction for 2015-2017 and Habitat LA is proudly one of them. For more information, please visit www.dev.habitatla.org or call 310-323-4663.
Media Contact:
Ali Mullin
Habitat for Humanity of Greater LA
(310) 502-1269
amullin@dev.habitatla.org