We hope you will consider including a gift to Habitat for Humanity of Greater Los Angeles in your will or living trust. Called a "charitable bequest," this type of gift offers these main benefits:
Simplicity. Just a few sentences in your will or trust is all that is needed.
Flexibility. Because you are not actually making a gift until after your lifetime, you can change your mind at any time.
Versatility. You can structure the bequest to leave a specific item or amount of money, make the gift contingent on certain events, or leave a percentage of your estate.
Tax Relief. If your estate is subject to an estate tax, your gift is entitled to an estate tax charitable deduction for the gift's full value
Putting Your Family First
When planning a future gift, it's sometimes difficult to determine what size donation will make sense. Emergencies happen and you want to make sure your family is financially taken care of first. Including a bequest as a percentage of your estate ensures that your gift will remain proportionate no matter how your estate's value fluctuates over the years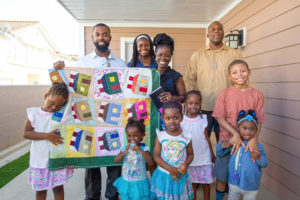 We Can Help…
We would be pleased to provide more information to you and your advisors concerning ways you can provide a legacy while preserving financial security for you and your loved ones.
If you would like to include a provision for the future of Habitat for Humanity of Greater Los Angeles in your will or other plans, we encourage you to contact Amy Flynn at 310-818-5229 or aflynn@habitatla.org.
---
Do you really need a will? Is your estate plan up to date? Will your gifts to loved ones and charities such as Habitat for Humanity of Greater Los Angeles be distributed according to your wishes?