LOS ANGELES, Feb. 26, 2019 – Delta Air Lines and Habitat for Humanity of Greater Los Angeles celebrated the completion of a new home on Wednesday, the eighth home built by Delta and Habitat LA since their multi-year partnership began in 2010.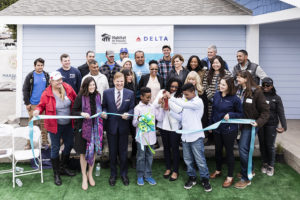 Partner homeowner Tianna-Nichole Joseph, a mother of four, attended the ceremony with her two youngest sons Carson and Kenneth, where they received the keys to their brand-new home. For many years, Tianna dreamed about buying a home for her family, and Habitat LA worked with Tianna to help her take the necessary steps to qualify for a Habitat home. In addition to completing her sweat equity hours building her own home, Tianna will also pay back a zero-interest mortgage.
More than 500 Delta employees volunteered their time to build alongside Habitat LA staff, the Joseph family and members of the community to complete the home in under four months. The one-story, 1,149 sq. ft. home has three bedrooms and two bathrooms. This is also the first Habitat LA home with an accessory dwelling unit (ADU). The ADU is 494 sq. ft. with one bedroom and one bathroom.
The home also incorporates many environmentally friendly features, including:
Drought tolerant landscaping
Energy-efficient heating and solar panel ready
Recycled insulation made from recycled denim
Low-flow plumbing fixtures
"Delta continues to amaze us with their commitment to the communities in which they serve and we are extremely fortunate to have had them as a partner here in Los Angeles for nearly a decade," said Erin Rank, President and CEO of Habitat LA. "Delta employees from all over came to volunteer with us to build this home with the Joseph family. These walls will be filled with the love that was put into them for generations to come."
"As LA's fastest-growing airline, Delta is also an active and engaged member of the community, and our partnership with Habitat LA is one prominent way that we support that commitment," said Scott Santoro, Delta's Vice President – Los Angeles and West Sales. "Our employees poured their hearts into building this home, and we couldn't be more thrilled to welcome the Joseph family into the Delta family."
Delta has donated more than $1.4 million to support Habitat LA in building a greater Los Angeles. To date, more than 1,050 Delta employees have contributed nearly 7,300 hours to help local individuals and families achieve their dream of homeownership, and the LA build is Delta's 264th home built in partnership with Habitat for Humanity International in 12 countries since 1995.
About Habitat for Humanity of Greater Los Angeles
Habitat for Humanity of Greater Los Angeles (Habitat LA) brings people together to build homes, communities and hope. As the top nonprofit homebuilder in the greater Los Angeles area with five consecutive Charity Navigator 4-Star ratings, Habitat LA has partnered with volunteers, donors and Habitat homeowners to build, renovate and repair more than 1,300 homes locally and worldwide since 1990. The lives of thousands of individuals have been transformed as a result of having a decent and affordable place to call home. Habitat homeowners help build their own homes and pay an affordable mortgage. By supporting Habitat LA through volunteerism, donations and supporting affordable housing, everyone can help families achieve the stability and self-reliance they need to build a better future. To learn more, visit www.habitatla.org.
About Delta
Delta Air Lines (NYSE: DAL) is the U.S. global airline leader in products, services, innovation, reliability and customer experience. Powered by its 80,000 people around the world, Delta continues to invest billions in its people, improving the air travel experience and generating industry-leading shareholder returns.
Delta serves nearly 200 million people every year, taking customers across its industry-leading global network to more than 300 destinations in over 50 countries.
Headquartered in Atlanta, Delta offers more than 5,000 daily departures and as many as 15,000 affiliated departures including the premier SkyTeam alliance, of which Delta is a founding member.
Through its innovative alliances with Aeromexico, Air France-KLM, Alitalia, China Eastern, GOL, Korean Air, Virgin Atlantic, Virgin Australia and WestJet, Delta is bringing more choice and competition to customers worldwide.
Delta operates significant hubs and key markets at airports in Amsterdam, Atlanta, Boston, Detroit, London-Heathrow, Los Angeles, Mexico City, Minneapolis/St. Paul, New York-JFK and LaGuardia, Paris-Charles de Gaulle, Salt Lake City, São Paulo, Seattle, Seoul-Incheon and Tokyo-Narita.
Delta has been recognized as a Fortune's top 50 Most Admired Companies in addition to being named the most admired airline for the eighth time in nine years. Additionally, Delta has ranked No.1 in the Business Travel News Annual Airline survey for an unprecedented eight consecutive years and for 2018 was named one of Fast Company's Most Innovative Companies Worldwide.
As an employer, Delta has been regularly awarded top honors from organizations like Glassdoor and recognized as a top workplace for women and members of the military. Delta CEO Ed Bastian was named among the "World's Greatest Leaders" by Fortune magazine in 2018.
More about Delta can be found on the Delta News Hub as well as delta.com, via @DeltaNewsHub on Twitter and Facebook.com/delta.
Contacts:
Habitat LA
Genetric Brown
O: 424-246-3187
C: 310-808-5902
gbrown@habitatla.org
Starfish P.R.
Angela Moore
310-429-8868
angela@starfish-pr.com