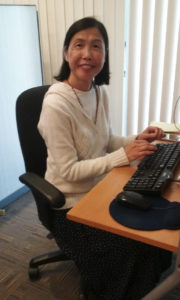 Habitat for Humanity of Greater Los Angeles (Habitat LA) recognizes Linda Bame as our December Volunteer of the Month. Linda has been part of the Habitat LA family for over 3 years. After visiting us at the grand opening of the Habitat LA ReStore in Bellflower, she quickly learned about other opportunities where she could use her talents. She has a background in catering services and experience working in large venues, which has enabled Linda to fit right in as a part of the special events team. She works side by side with the group assisting in planning, coordinating and preparing for upcoming events.
When Linda is not volunteering with Habitat LA she is remodeling her own home. DIY projects give her a great feeling of accomplishment and she is always on the lookout for the next home repair. Linda wanted others to know that there are many areas where people can help. According to Linda, "It is not always construction where you can help, but there are many office jobs available too. You just have to find what you like."
We are so happy that Linda volunteers her time at Habitat LA. We greatly appreciate her dedication and value her commitment.