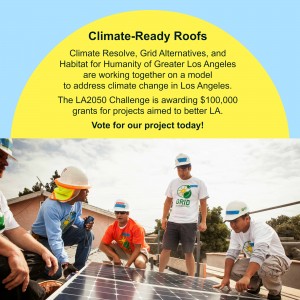 We are very excited to have partnered with Climate Resolve and Grid Alternatives on a new program called Climate-Ready Roofs where we will install photovoltaics and cool roofs for free on qualifying homes.
This first-of-its-kind program was created to address the lack of access that low-income communities have to solar energy as well as clean and green technology.
We believe that Climate-Ready Roofs will help build a greater Los Angeles that is also healthier, more livable and equitable.
The program also offers additional benefits to homeowners and the environment. Climate-Ready Roofs uses cool roofs, which naturally reflect the sun's rays, thereby keeping homes cooler and more resilient in the face of rising Los Angeles temperatures. They reduce air pollution too!