300 Volunteers to Converge in Culver City for Two-Day Build Event June 7th & 8th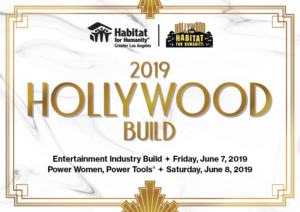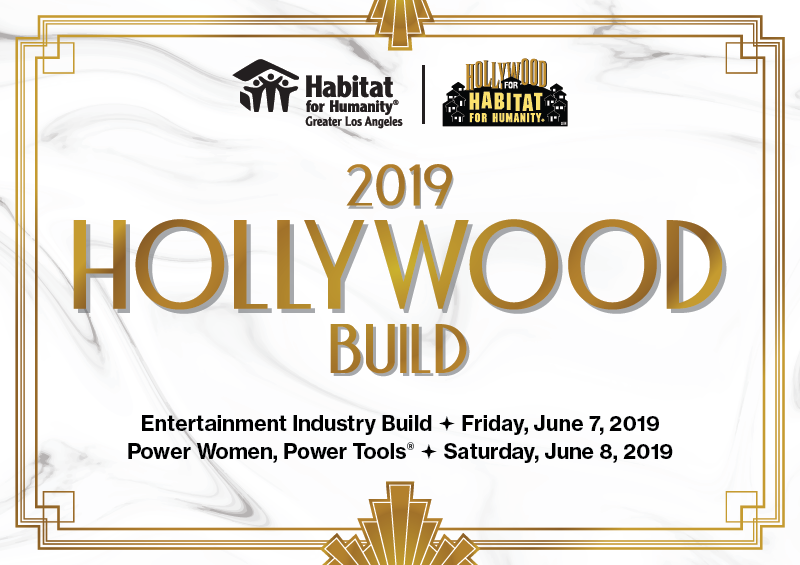 Los Angeles, CA – May 29, 2019: Habitat for Humanity of Greater Los Angeles (Habitat LA) is thrilled to announce that City National Bank will be the title sponsor for its 15th annual Hollywood Build in Culver City. The event will bring together more than 300 volunteers, over two days, to raise hammers, funds, and awareness surrounding the pressing need for affordable housing in the greater Los Angeles area. The Entertainment Industry Build takes place on Friday, June 7th and Power Women, Power Tools® will be on Saturday, June 8th.
Entertainment industry executives, celebrities, corporate leaders, government officials, faith groups and community stakeholders will work side-by-side with current and future Habitat LA homeowners. Specifically, participants will continue construction of a new 10-home community in Culver City.
"Our Hollywood Build is one of the most anticipated build events we host each year and it attracts a wide variety of volunteers, many of whom are repeat attendees," said Erin Rank, President and CEO, Habitat LA. "We are excited to have our longtime supporter, City National Bank, as our title sponsor this year. They do so much for the community and their generous support of this event is such a blessing for the families who are working so hard to build these homes."
City National Bank is committed to the community it serves and believes in the importance of creating a world where everyone has a decent place to call home. In partnership with Habitat LA, they will help empower partner homebuyers to have stability and security through homeownership, which will allow families to pursue careers, further their education, and watch their children thrive.
"We are pleased to support the annual Hollywood Build event and look forward to constructing badly needed affordable housing for some of our most vulnerable citizens in Culver City," said Jennifer Nickerson, Senior Vice President and Corporate Citizenship Manager at City National Bank. "Affordable housing is a key initiative at City National and our colleagues are grateful for the opportunity to give back to our communities. It is imperative that we all work together toward a solution for affordable housing."
Both women and men of all experience levels can participate by signing up to volunteer here. To stay current on all Habitat LA events including Hollywood Build, visit Twitter, Instagram and Facebook @HabitatLA, and follow the hashtags #BuildLA and #HollywoodBuild.
About Habitat for Humanity of Greater Los Angeles
Habitat for Humanity of Greater Los Angeles (Habitat LA) brings people together to build homes, communities and hope. As the top nonprofit homebuilder in the greater Los Angeles area with five consecutive Charity Navigator 4-Star ratings, Habitat LA has partnered with volunteers, donors and Habitat homeowners to build, renovate and repair more than 1,300 homes locally and worldwide since 1990. the lives of thousands of individuals have been transformed as a result of having a decent and affordable place to call home. Habitat homeowners help build their own homes and pay an affordable mortgage. By supporting Habitat LA through volunteerism, donations and supporting affordable housing, everyone can help families achieve the stability and self-reliance they need to build a better future. To learn more, visit www.habitatla.org.
About City National
With $53.6 billion in assets, City National Bank provides banking, investment and trust services through 70 offices, including 19 full-service regional centers, in Southern California, the San Francisco Bay Area, Nevada, New York City, Nashville, Atlanta, Minneapolis and Washington, D.C. In addition, the company and its investment affiliates manage or administer $75.1 billion in client investment assets.
City National is a subsidiary of Royal Bank of Canada (RBC), one of North America's leading diversified financial services companies. RBC serves more than 16 million personal, business, public sector and institutional clients through offices in Canada, the United States and 34 other countries.
For more information about City National, visit the company's website at cnb.com.
# # #
Media Contacts:
Genetric Brown
Habitat LA
O: 424-246-3187
C: 310-808-5902
gbrown@habitatla.org
Angela Moore
Starfish P.R.
C: 310-429-8868
angela@starfish-pr.com