Event builds upon City National's 20-year history of supporting Habitat LA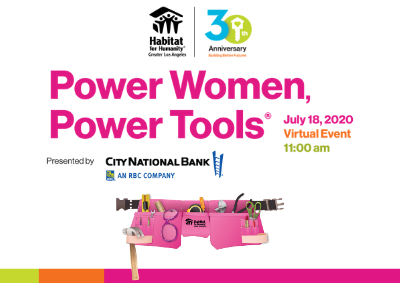 Los Angeles, CA – July 16, 2020: City National Bank, America's Premier Private and Business Bank®,  announced their return for the second year as presenting sponsor for Habitat for Humanity of Greater Los Angeles' 2020 Power Women, Power Tools®. The event normally invites "power women" from different industries, including entertainment industry executives, celebrities, corporate leaders, government officials, faith leaders, and community stakeholders to lend their time, talent, and to donate to a special build event, working side-by-side with current and future Habitat LA homeowners to help build their home. This year, due to the COVID-19 global pandemic, the event will look different as Habitat LA shifts to a virtual event, to ensure the health and safety of the Habitat LA community is the first priority. Though physically apart, the community will still build together.
The Power Women, Power Tools® build was born out of the Hollywood for Habitat for Humanity program, which supports Habitat LA through donations, volunteer hours and advocacy. As the presenting sponsor, City National Bank will be featured throughout the first-ever live virtual event hosted on Habitat LA's website on Saturday, July 18, 2020 at 11:00 am. This year's partnership aligns with Habitat LA's efforts to grow support during the global pandemic to help people realize the importance of home and what a difference it can make in the lives of a family. By raising funds and awareness through event challenges, an online auction, and special celebrity guest appearances, this event will help provide a hand-up, not a hand-out, to welcome the last four families home to the 10-home site in Culver City.
"Power Women, Power Tools® is an opportunity for us to bring together the "Power Women" in our communities to empower each other and help our partner families build strength and stability," said Erin Rank, President and CEO, Habitat LA. "With the support of City National Bank, we are able to still host this important event, and by going virtual, we are able to invite everyone to help us build from home."
In 2019, City National Bank announced their national partnership with Habitat for Humanity, marking the company's first national relationship with a nonprofit organization. City National Bank has helped Habitat organizations for 20 years on the West Coast, with projects including team home builds and fundraising galas. In the summer of 2019, City National Bank kicked off their partnership with Habitat LA as the presenting sponsor for the Hollywood Build two-day event which attracted more than 300 volunteers and raised nearly $300,000 to help address the pressing need for affordable housing in the greater Los Angeles through permanent housing solutions. In the fall of 2019, City National Bank was also the presenting sponsor for the 2019 Los Angeles Builders Ball® which raised over $900,000 including an exciting live auction and a fund-a-need, which raised close to $200,000 in less than 30 minutes.
"Habitat for Humanity's mission to solve the affordable housing crisis takes on an even greater meaning during the pandemic," said Linda Duncombe, executive vice president and chief marketing, product and digital officer of City National Bank and board member for Habitat for Humanity of Greater Los Angeles. "City National has a long history of supporting communities where our colleagues and clients live and work, and affordable housing is one of the most critical issues facing our society today, especially during this unprecedented time. We are proud to partner with Habitat and help families build safer, healthier and better lives in our communities."
For 30 years, Habitat LA has worked to build better futures for families in the greater Los Angeles area. Through the continued support of community partners such as City National Bank, Habitat LA will continue its commitment to ensure everyone has a safe and decent place to call home. To learn more about the event or to show your support, please visit https://www.habitatla.org/2020-power-women-power-tools/
About Habitat for Humanity of Greater Los Angeles
Habitat for Humanity of Greater Los Angeles (Habitat LA) brings people together to build homes, communities and hope. As the top nonprofit residential homebuilder in the greater Los Angeles area with a Charity Navigator 4-Star rating for eight consecutive years and the Platinum GuideStar status for transparency, Habitat LA has partnered with volunteers, donors and Habitat homeowners to build, renovate and repair more than 1,000 homes locally since 1990. The lives of thousands of individuals have been transformed as a result of having a decent and affordable place to call home. Habitat homeowners help build their own homes and pay an affordable mortgage. By supporting Habitat LA through volunteerism, donations and supporting affordable housing, everyone can help families achieve the stability and self-reliance they need to build a better future. To learn more, visit www.habitatla.org.
About City National 
With $69.1 billion in assets, City National Bank provides banking, investment and trust services through locations in Southern California, the San Francisco Bay Area, Nevada, New York City, Nashville, Atlanta, Minneapolis, Washington, D.C. and Miami*. In addition, the company and its investment affiliates manage or administer $76.9 billion in client investment assets.
City National is a subsidiary of Royal Bank of Canada (RBC), one of North America's leading diversified financial services companies. RBC serves more than 17 million personal, business, public sector and institutional clients through offices in Canada, the United States and 34 other countries.
For more information about City National, visit the company's website at cnb.com.
*City National Bank does business in Miami and the state of Florida as CN Bank.
# # #
Media Contact:
Genetric Brown
C: 310-808-5902
gbrown@habitatla.org