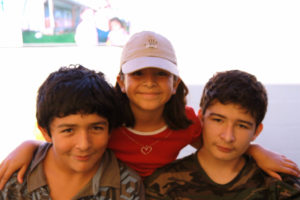 Betty Monroy learned about Habitat for Humanity of Greater Los Angeles (Habitat LA) in 2008. She was a long-time resident of Downey and very active in her community.  As a single mother of three, she was working several jobs just to make ends meet. During the economic downturn, Betty lost her primary job and found herself working several part-time jobs to survive. Her two sons, Josh and Nicholas, both were diagnosed with Asperger syndrome and were thriving in Downey's acclaimed special education program. It was imperative for Betty to remain in Downey; however, she was unsure how to do that with her main source of income now gone. Betty was at a crossroads. Change is very stressful for children with Asperger's and Betty was willing to do whatever it took to keep her children in Downey, even if it meant dividing up her family.
"The worst time in my life ended up being the best time in my life."
Betty learned that Habitat LA was holding an orientation meeting for those interested in applying for a home to be built in Downey and was eager to learn more. She was so eager that she was the first to arrive, even before the Habitat LA staff!  After fulfilling all the requirements, Betty received the news that she had been selected for the new home in Downey.
Betty and her son Josh (age 17 at the time) began volunteering as part of their 500 sweat equity hours.  Josh, however, was not comfortable meeting new people. Since Habitat homes are built primarily by volunteers, large groups of new volunteers (i.e. strangers) would arrive each day.  The volunteers would want to meet him, which frightened him, so he would hide. That is until he started building his house. Josh took pride in his work –  installing siding, drywall and flooring, and painting. As his home neared completion, Josh began greeting volunteers and leading tours so that he could share what he helped to build!
"My life has changed dramatically. My son, Josh, who used to hide from volunteers, is now in the Navy working as an airman and training to become an aviation mechanic.  My other son (name) has a job he loves and is doing well. And my daughter, Dominique, is a junior in high school and just received an offer from York St. John University in England to be the goalie on their first women's soccer team!"
Betty believes all of these good things happened for her family because of their Habitat home. "Our home made us feel safe. There is not a day that goes by that I don't say, 'Thank you, Lord, for this house.' I am a small example of what happens when you give someone a chance. I love my home and my children love their home."
Betty made a conscious decision to build a better life for her family and she continues to volunteer and pay it forward ten years later. She regularly helps Habitat LA reach more families by sharing her story whenever she can and volunteering during build days and special events.  We are so proud to have the Monroys in the Habitat family. Betty shines as a prime example of how Habitat for Humanity is empowering low-income families and individuals to build a better future for generations.
Now is the time to plan end of year charitable giving. There are many tax benefits to doing so and your gift to Habitat LA will have an impact on the life of a family just like the Monroys. For more information on the benefits of making a gift to Habitat LA, check out 5 Tips for End of Year Giving or click here to make a donation.
On December 11, 2009, Betty and her family received a wonderful surprise. Watch their reaction below.