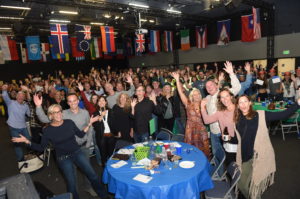 The 8th annual Beach Cities Friends Trivia Night, held on October 13, 2018, was another huge success, raising more than $50,000 to help Habitat LA.  The evening was very entertaining for the 160 people who participated. SmArchitects finished in second place for the 4th time, while a new team, Yertle's Turtles, walked away with the championship trophy. A total of 20 teams joined in the fun this year, almost all of them donning inventive team costumes for the occasion. We are especially thankful for this year's event sponsors, KAA Design, KKC Fine Homes and LA Ale Works.
See photos on our Flickr page here.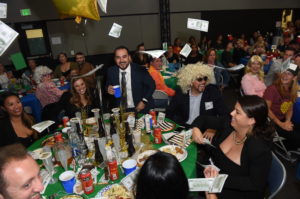 Beach Cities Friends was founded in 2002 by a small group of women from Hermosa and Manhattan Beach with a passion for empowering families through homeownership. In addition to volunteering at construction sites throughout the year, they spend hours planning the annual trivia night. Amy Howorth, a former mayor of Manhattan Beach and Beach Cities Friends Committee Member, served as the master of ceremonies, while Beach Cities Friends Chair Cindy Hoag welcomed the raucous crowd. Thank you to all those who donated and participated, especially to the Beach Cities Friends Committee members Candy Currie, Eve Currin, Cindy Hoag, Mary Hocking, Amy Howorth, and Leslie Whinfrey.