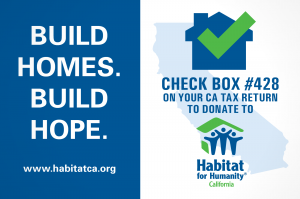 Habitat for Humanity of Greater Los Angeles (Habitat LA) is starting the New Year on a high-note having just been recognized by Habitat for Humanity International for its advocacy initiative surrounding Assembly Bill 1765. Assembly Member, Reginald Jones-Sawyer of Los Angeles, drafted the bill with the intent of giving Californians an easy and efficient way to donate a portion of their tax return to the Habitat for Humanity Fund.
Inspired by the bill's potential to improve the lives of low-income families if signed into law, Habitat LA moved into action with an email blast sent to over 40,000 recipients across California. More than 200 people contacted Governor Jerry Brown and, in less than 24 hours, persuaded Governor Brown to sign AB 1765 into law.
All proceeds raised through this tax initiative will be used for the sole purpose of building affordable housing for hardworking, low-income families throughout California. This tax season, make sure to check the box number 428 so that you can donate to the Habitat for Humanity Fund, and help families in need.
This year's Advocacy Award was awarded to three organizations, one being Habitat LA. The award is designed to recognize and highlight the outstanding and creative advocacy work that is being implemented to improve housing for people in the United States, and around the world.
The winners of the advocacy awards will be honored at Habitat for Humanity International's annual legislative conference in February. Habitat's new strategic plan encourages Habitat for Humanity to "promote policies and systems" that will have an impact on the global housing sector.