Washington Neighborhood Transformation Begins Nov. 6th through 8th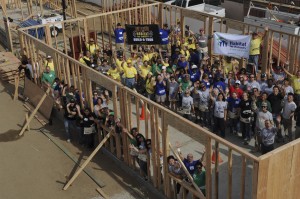 Los Angeles, CA — November 5, 2014: Habitat for Humanity of Greater Los Angeles (Habitat LA) is pleased to announce its annual Hollywood for Habitat for Humanity Build-A-Thon (HBAT) will take place Nov. 6-8 in the Washington Neighborhood in the City of Long Beach. Habitat LA will bring together more than 800 volunteers to revitalize the neighborhood.
Follow @HabitatLA and #HBAT14
During the HBAT, volunteers and partner homeowners will be taking part in a long-term strategy to revitalize this community – the Washington Neighborhood. In three days, volunteers will build two new homes, repair six homes for families residing in the neighborhood and provide repairs for four nonprofit organizations – The Long Beach Rescue Mission, Catholic Charities, Un Mundo de Amigos Preschool and The Guidance Center.
With the proximity to Veterans Day on November 11, the event will also recognize former military service people for their contributions. More than 200 volunteers will build per day, including veterans from every branch of the military, corporate and foundation sponsors, celebrities and entertainment industry executives, civic leaders, churches, youth organizations, community stakeholders and residents.
"Our annual Hollywood Build-A-Thon takes the place of a typical gala and it's a wonderful way for us to engage our supporters in a tangible, meaningful way," said Erin Rank, President and CEO, Habitat.LA. "By replacing the typical sit down ballroom dinner with a Habitat build day, our volunteers gain an understanding of how we are changing lives by actually helping us with the process. Celebrities, CEOs, and Faith Leaders get to build alongside the very people who will be purchasing and living in the new homes as well as existing homeowners with home repairs and the local nonprofit organizations. It's completely transformative for all and we are extremely excited to be holding this event in Long Beach, where it all began for our affiliate nearly 25 years ago!"
Long Beach was selected for Habitat LA's annual HBAT as a complement to its Neighborhood Revitalization Initiative in the Washington Neighborhood where Habitat LA has and will continue to invest millions of dollars to provide homeownership opportunities and repair services to those in need. In addition, the Washington Neighborhood is the future home of Habitat LA's largest development in Habitat LA's history. Low to moderate-income families and individuals will be able to enjoy affordable and environmentally sustainable living in this multi-unit development.
Schedule to Volunteer:
THURSDAY 11/6:
Angelique Bates – Comedian/Actor
Dotsie Bausch – Olympic Silver Medal Cyclist
Emily Bergl – 'Shameless'
Chynna Chameleon – Recording Artist
Tim Connolly – 'Shameless' (Actor & Stuntman)
Tessa Farrell – 'Entourage '
Colin Ford – 'Under the Dome'
Ty Granderson Jones – 'Con Air'
Tracy Hutson – Designer
Dawnn Lewis – 'Major Crime/A Different World'
Leslie Lewis – Reality personality
Kory Minor – Former NFL Player
Ashley Noel – 'Bad Science'
Michael Roark – 'Magic Mike'
KiKi Shepard – 'Showtime at the Apollo'
Camryn Siegel – Recording Artist
FRIDAY 11/7:
Bruno Amato – 'Horrible Bosses 2'
Chynna Chameleon – Recording Artist
Alexa Ferr – Disney Singer
J Teddy Garces – 'Zane's the Jump Off'
Carly Robyn Green – Singer
David Golshan – Bravo's 'Shahs of Sunset' & 'Millionaire Matchmaker'
Austin Highsmith – 'Dolphin Tale' 1 & 2
Betsey Landin – 'Dolphin Tale' 1 & 2
Josh Levi – 'X Factor USA'
Bret Lockett – Famed Former NFL Player
Natalie Zea – 'The Following'
SATURDAY 11/8:
Kathleen Bradley Redd – 'The Price is Right'
Cher Calvin – KTLA 5 News
Chynna Chameleon – Recording Artist
Aja King – 'How to Get Away With Murder'
Tina Knowles – Designer
Richard Lawson – 'For Colored Girls'
Alexandra McLeod – 'Trading Spaces'
Glynn Turman – 'House of Lies'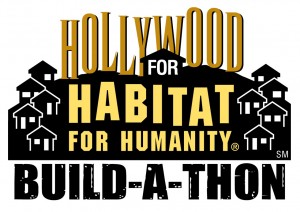 Special thanks to the following HBAT Sponsors:
Thrivent Financial
California Community Foundation
Delta Air Lines
The Vons Foundation
Valspar
Platinum Equity
US Bank
LMGA (Location Manager Guild of America)
Hollywood Sierra Kitchens
CBRE Cares
PepsiCo
NRG
Variety
Bank of America
Malarkey Roofing Products
Sony Pictures
Union Bank
Fox
Summit
American Rentals
Home Depot
Providence Health & Services
Silestone
The homes being renovated during HBAT will be sold to qualified homebuyers .To qualify, homebuyers must be willing to invest sweat equity hours building their future Habitat home and the homes of other Habitat partner families. Additionally, the prospective homebuyer must be able to afford a mortgage , a nominal down payment and fall within the program guidelines. For more information on homeownership opportunities, visit www.dev.habitatla.org or contact Habitat's Homeowner Relations Department at 310-323-4663.
About Habitat for Humanity of Greater Los Angeles
Habitat for Humanity of Greater Los Angeles (Habitat LA) strives to eliminate substandard housing through advocacy, education and partnership with families and individuals in need to build decent, sustainable and affordable housing. Since 1990, Habitat LA has built and repaired more than 1,000 homes locally and worldwide, transforming the lives of hundreds of individuals. Habitat LA is a GuideStar® Valued Partner and has achieved the coveted Charity Navigator 4-Star rating awarded to non-profits for sound fiscal management and commitment to accountability and transparency. For more information, please visit http://dev.habitatla.org or call 310-323-4663.
# # #
Media Contacts:
Jo-An Turman
Habitat for Humanity GLA
T: 424-246-3175
jturman@dev.habitatla.org
Angela Moore
Starfish PR
T: 310-429-8868
angela@starfish-pr.com