The 7th General Hospital Fan Build was recently held at the site of our six-home neighborhood in the City of Bellflower. Fans of the long-running daytime drama generously donated $300 for the opportunity to spend the day building homes alongside their favorite cast members, some coming from as far as New Jersey and Saskatchewan! It was an intimate group that endured the extreme heat, but they managed to conquer a hefty workload, which included sanding, painting, installing window trim and roofing.
We are extremely grateful to Lisa LoCicero (Olivia Falconeri), Dominic Zamprogna (Dante Falconeri), Ryan Paevey (Det. Nathan West), Vinessa Antoine (Jordan Ashford), Michelle Stafford (Nina Reeves) and William DeVry (Julian Jerome) for giving their time and supporting our mission all these years.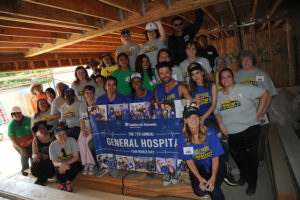 Fans and cast were treated to a delicious and well-deserved lunch, while hearing from future homeowners who will be purchasing and living in the homes they were building.
"To be able to support Habitat LA in this way is such a gift," said Lisa LoCicero. "There is such a need for decent, affordable housing, especially in Los Angeles, and I am honored to be able to help in some small way. I may be sore for days after, but I have a great time doing it! I can't thank our fans enough for supporting this event for so many years!"
Dom Zamprogna added, "It's so special to build with Habitat LA alongside the families who are working so hard to become homeowners. I feel blessed to be a part of this and I am so grateful to share this experience with our amazing fans, who give so generously to support this build event and Habitat's mission."
General Hospital Fan Build Days originated in 2009 with Brandon Barash and Lisa LoCicero, who created the event as a way to reward loyal fans of the show, while becoming more involved with Habitat for Humanity.
Twitter, Facebook and Instagram were buzzing throughout the build day as fans all over the world followed along using #GHFanBuild17. Habitat LA would like to express our thanks to the fans and cast members for their incredible support and we look forward to the 8th GH Fan Build!
View more photos from the day here.