<span id="yui_3_16_0_1_1424714495156_9617">During this Lent season we encourage you to reflect on the blessings in your life and how you can serve others</span>.
HOPE TO SHARE
By Tom Jones
The congressman and I had spent a Sunday afternoon participating in the dedication of four "Houses that Congress Built." We were running late to catch our planes. A 10-year-old girl who would be living in one of the homes would not allow us to leave. She grabbed our hands, literally tugging us up the stairs of the home we had just dedicated.
With a wonderful, indescribable facial expression, she exclaimed, "This is my room! And I have my own closet!" After some really fun give and take, we had to leave.
The congressman said, "You know, I don't believe I have ever experienced such joy and hope in another person." So also it was for me!
What a privilege it is for us at Habitat for Humanity to be channels for God's Holy Spirit to work through us to instill joy and hope. Time and again, we are given opportunities to make God's love real and permanent in the lives of others, while also deepening our own love and faith and joy and hope. We join Paul in his expression to the Romans:  "We have peace with God through our Lord Jesus Christ … and rejoice in hope of the glory of God." (Romans 5:1-2, NKJV).
Lent is a time for believers to prepare for deepening the Easter experience of the  resurrection of Christ and the celebration of the never-ending presence of Christ here and now. Lent is 40 days, based on Jesus' 40 days of preparation for His ministry on earth. May this Lent 2015 be such a preparation time for each of us and for Habitat ministries becoming better than ever channels for God's Holy Spirit to bring joy and hope to people everywhere.
PRAYER
God, present and alive through Christ's Holy Spirit, in these days of Lent, deepen our recognition and commitment to bring "Your Kingdom on earth, as it is in heaven."
Remind us that "Men and women, richer, poorer,
All God's people young and old,
Blending human skills together,
Gracious gifts from God unfold."1 Amen.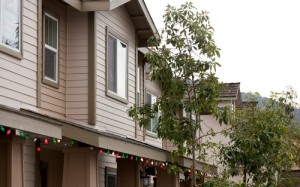 Tom Jones lives in Gainesville, Georgia, and is ambassador-at-large for the CEO for Habitat for Humanity International.
1 Jane Parker Huber, "Called as Partners in Christ's Service," The Presbyterian Hymnal, 1981, page 341.