On December 7, 2020, Habitat LA celebrated its first virtual Veterans Build. This free event, which was generously sponsored by City National Bank, provided participants with a fun "behind the scene" visit to a current Habitat for Heroes home preservation project in South Los Angeles. Participants met the Alline family as well as our staff and several volunteers who also happen to be veterans, all of whom worked together to provide interior and exterior home repairs to improve the safety and security of the Alline's home. The second half of this virtual event brought together a local panel of experts working on behalf of the Los Angeles area veterans community. Moderated by Habitat LA's own Dr. Dinesa Thomas-Whitman, Director of Outreach, Advocacy, and Policy, the panel provided an informative discussion on the challenges veterans and military families face regarding affordable housing, employment and the transition to civilian life. To learn more about the Veterans build and our esteemed panelist, please visit https://www.habitatla.org/habitat-la-hosts-virtual-veterans-build-2020/.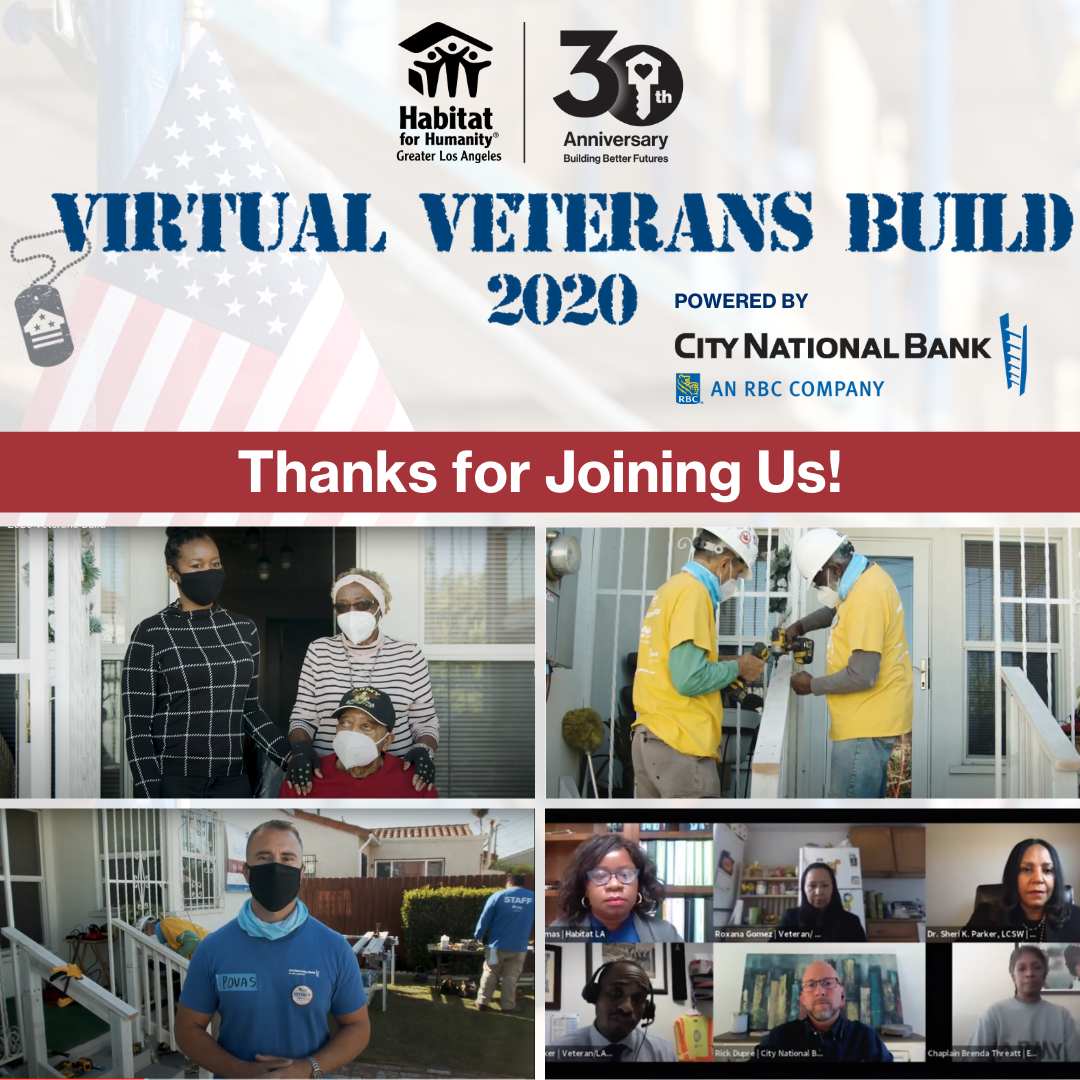 We would love to express our gratitude to City National Bank for being the presenting sponsor of this event and all of Habitat LA's virtual events in 2020, City National Bank has served as presenting sponsor for all of Habitat LA's virtual events in 2020, fully supporting Habitat LA's commitment of continuing to come together and raise funds and awareness for affordable housing solutions despite the challenges that arose from COVID-19.
"City National proudly supports Habitat for Humanity's mission to fulfill one of society's most pressing needs — providing our nation's heroes with a place to call home," said Jennifer Nickerson, Senior Vice President and Manager of Community Relations at City National Bank and Veterans Build volunteer. "Veterans have dedicated their lives to our country, so it's our honor to help them build better ones. City National has a long history of giving back to our community – it's part of our DNA – and it's taken on an even greater meaning during the pandemic."
Also, if you missed tuning in to the Veterans Build, you can still re-watch the event. It was a great highlight of our Habitat for Heroes program in action, showing a home preservation project for a veteran family and included an informative panel discussion about veterans, affordable housing, mental health and the transition to civilian employment opportunities.