Terri Haack has supported Habitat for Humanity for many years and is an active member of the Habitat for Humanity of Greater Los Angeles (Habitat LA) Board of Directors. She gives of her time and resources generously, all while running one of LA's premier resort destinations, Terranea. We continue to be inspired by Terri's commitment to Habitat LA and her community.
What or Who inspires you (or motivates) you to give back in your community?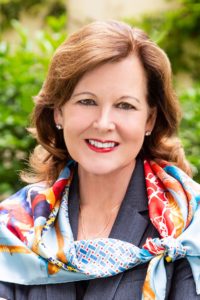 Supporting our local community and our precious natural habitat is paramount for Terranea. We are honored to aid in the enhancement of the greater Los Angeles area and to help families achieve stability for a stronger future. This year marks our milestone 10th Anniversary on the Palos Verdes Peninsula, it's always been important to us to maintain a relationship with the local community—and we feel privileged to live and work in this special place.
Why do you support Habitat for Humanity? How long have you been involved?
I first became involved with Habitat for Humanity in Charleston, South Carolina, where I was operating another resort. Habitat for Humanity has long been a partner of our organization on the corporate level and we really wanted to become more involved in our own community—on a local level—and that is how we were introduced to Habitat for Humanity of Greater Los Angeles.
I have been a proud member of the Board of Directors for Habitat LA for several years now, and I have also been inspired by the business acumen of Erin Rank, the CEO, for over 20 years. Her sense of commitment to the families, her keen awareness of need areas and potential land availability for development and redevelopment has been a great learning experience for me.
What do you wish people knew about Habitat for Humanity?
There is so much more to Habitat for Humanity of Greater Los Angeles (Habitat LA) than building homes. They are building communities. They build hope and improve the lives of thousands of individuals in our own backyard. By supporting Habitat LA through volunteerism and donations to support affordable housing, we hope to help families achieve the stability and self-reliance they need to build a better future.
What does "home" mean to you?
Home is a special place where you feel welcome, comfortable, and secure, and that you share with the people you love. I, along with the dedicated resort team, am honored at the opportunity to help create homes for our surrounding community.
Please share a special Habitat memory.
It is a tremendous honor for myself and our associates to have the opportunity to successfully create deliver exceptional environments and extraordinary experiences for others. For us to be able to build, construct and share a new home within our community is so meaningful for each of us.
Please tell us which 3 emojis best describe you.
Pineapple🍍: It is the symbol of hospitality
Heart❤️: I am driven by a heart of service
Scarf🧣: My signature accessory
More about Terri Haack
Terri A. Haack, president of Terranea, has led the resort since opening in 2009, to national prominence, positioning it as one of the top destinations in the U.S. The resort celebrates its milestone 10-year anniversary in 2019, and has received national recognition by Conde Nast Traveler and Travel + Leisure as a top resort, and Los Angeles' Top Places to Work.
A successful business leader, Haack blends her effective business vision with a passionate commitment to positively make a difference, both in the world of business and the community she serves. She also stays actively involved in local, regional, state and national legislation and policy.
Haack serves on the American Hotel & Lodging Association (AH&LA) Executive Committee, Board of Directors, is Chairman of the Educational Foundation Scholarship Committee and a founding Board Member and Chairman of the Women in Lodging Executive Council. Haack is also a member of the strategic planning board for Marymount California University, member of the President's Advisory Council of Palos Verdes Peninsula Land Conservancy and on the Board of Directors and Executive Committee for Habitat for Humanity of Greater Los Angeles.
Prior to Terranea, Haack served as executive vice president and managing director at Wild Dunes Resort in Charleston, SC and Kingsmill Resort in Williamsburg, VA, and has over 35 years of experience managing hotels, resorts and residential communities.
She is married to Doug Haack, a retired airline pilot and business owner, and their son Brian is a graduate of the University of Southern California.
Want to be part of our biggest party of the year? Click here for information about tickets and sponsorships, but you'd better hurry because this party will sell out!