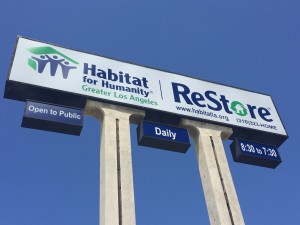 On the south side of the 91 Freeway near Lakewood Boulevard is a large sign advertising something called a ReStore.
Those unfamiliar with such a store  — operated by Habitat for Humanity of Greater Los Angeles —  are missing out on a place where real treasures can be found.
The ReStore, at 8739 Artesia Blvd, Bellflower,  sells donated reusable furniture, appliances, building materials, rugs and hundreds of other things, most at 10 to 25 cents on the dollar, explained Dave McKechnie, the stores' vice president of retail operations.
The money raised enables Habitat for Humanity to move forward with its many area projects building suitable housing for low-income families.
The ReStore in Bellflower and a second location at 18600 Crenshaw Blvd, Torrance, have raised more than $22 million for those building projects locally. The sales have an added benefit of steering more than 7.8 million pounds of otherwise discarded materials and goods away from Southern California landfills.
A large amount of the stores' sales are furniture, appliances and cabinets, but it's also where customers can pick up a large area rug or a bathtub or flooring tiles or other useful things at affordable prices.
"We think this is a wonderful place to change lives," said McKechnie.  "The stores provide items that often are just too expensive for a lot of people.  And it also provides a tax base for our local cities."
An additional benefit to the community is that some of the paid employees on the site are also homeowners from Habitat building projects.  Los Angeles County also assigns people needing community service hours to the store, and some of them have been hired for regular positions.
At the stores, donated items arrive daily and often move out quickly.  McKechnie said they usually turn over the stores' inventory as frequently as 14 times a year.
Habitat has an army of trucks under the direction of materials acquisitions manager Karen Moore ready to collect donated items.  In an area from Malibu to Whittier and Canoga Park to Long Beach, there are eight trucks available seven days a week to pick up donations.
McKechnie said about 60 percent of the shops' donations currently come from residential situations, from people rehabilitating houses or replacing furniture and appliances.
The ReStore employees cannot take everything, nor are they able to remove anything that is not freestanding.   They do not take liquids, paint, mattresses, large office desks, stained/ripped upholstered furniture, children's furniture, or items with lead soldered joints such as older dishwashers or water heaters.
The goal is to find items ready to be put out on the floor for quick sale — they should be relatively clean and not in need of repair.
The stores have three donation coordinators available at 424-246-3637 who can schedule a pick-up. Donors can also schedule their own donation pick-ups on-line by going to www.DonateToHabitat.org.
Most donations of goods to the ReStores are tax-deductible.
McKechnie is hopeful more people will become aware of the "treasure trove" of the ReStores where reusable items find buyers at a great price.
Information about Habitat for Humanity of Greater Los Angeles is available at www.habitatla.org.
Story by Joe Blackstock. Joe is a longtime supporter of Habitat for Humanity and retired reporter. His most recent position was with the Inland Valley Daily Bulletin.