Beach Cities Friends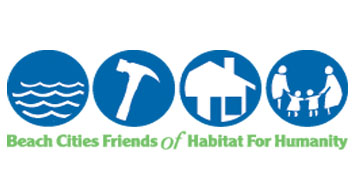 About Beach Cities Friends
Beach Cities Friends was founded in 2002, we are a group of individuals in the South Bay area that gives back to their community by volunteering, raising funds and advocating for Habitat for Humanity of Greater Los Angeles (Habitat LA). We work to raise awareness for Habitat LA with events and fundraisers.  Since 2002, we have raised over $1 million to help build or renovate ten homes in partnership with Habitat LA and Habitat homeowners.
We are overjoyed that together we can continue to empower families in our communities, especially during these tough economic times. Every donation and helping hand is building a strong foundation for a family – an opportunity on which they can build a better life. Strong and stable homes also help to build a greater Los Angeles by revitalizing, strengthening and stabilizing our local communities.
Annual Fundraisers
Trivia Night!
Save the date: Saturday, October 29, 2016

Click HERE for pictures from our last fundraiser.
Click here to Register
Past Projects
Since 2002, Beach Cities Friends has had the privilege to partner with NINE homeowner families in Los Angeles and the South Bay!
Jimmy Carter Work Project
The 2007 Jimmy Carter Work Project brought hope, hammers and thousands of volunteers to Los Angeles to build 30 homes and repair nearly 70 more. The construction project featured the building of homes ranging in size from two-story duplexes to a three-story eight-plex.  Beach Cities Friends was proud to partner with two families in the JCWP.
A Brush with Kindness
This program was launched alongside the Jimmy Carter Work Project, with the goal of assisting homeowners that cannot physically or financially afford to maintain their homes. This renovation project includes 70 homes that Habitat for Humanity will be helping to preserve and improve neighborhoods.
Lawndale Build Site
Our ninth home is located in the city of Lawndale and was completed in December of 2011.
Contact Us
We'd love to reduce the amount of mail we send!  To help us with our database (so that we may inform you of the dates of our events) please email us at beachcitiesfriends@gmail.com.  We will NOT share your email with ANYONE!  Saving $500 on postage is a big deal to us.  100% of your donations go directly to Habitat LA, and we cover all costs.
We raise our funds from neighbors, friends, corporations and public and private foundations.  Please contact us if you have a contact or a lead who would be excited to hear about our efforts.
We are also looking for new and better events to raise funds and awareness.  Please contact us with your ideas.
BCF Committee Members include: Candy Currie,  Eve Currin, Cindy Hoag – Chair, Mary Hocking, Amy Howorth, Laura Lang and Leslie Whinfrey