In December 2017, Habitat for Humanity of Greater Los Angeles (Habitat LA) announced the affiliate's territory expansion, including the Antelope, Santa Clarita and San Fernando Valleys. At this same time the Creek Fire raged through the southland burning over 15,600 acres in LA County and leaving charred ashes where homes once stood.
Families lost everything they owned in the fire. Their homes burned down to the foundations. FEMA was only able to provide minimal assistance and for many families the insurance money was completely absorbed by the banks holding their mortgages. Now these fire victims must continue to make mortgage payments on homes that are no longer standing.
Sadly, this is a common story following a natural disaster, but Habitat LA is working to help families rebuild, repair and restore their homes and property. Often, we think of the emergency relief efforts during and immediately following a natural disaster. But what happens months down the line?
That is part of Habitat LA's territory expansion services, the organization has been utilizing available resources, including grant funding, volunteer labor, and more to help wildfire-affected neighborhoods through cleanup and repair efforts.
In June, Habitat LA worked with the Disney VoluntEARs during their global week of service, celebrating 35 years of volunteering, to replant a tree-lined border surrounding the destroyed home of the Lagusker family, owners of Reptacular Reptile Ranch, an animal rescue in Sun Valley California. The Disney "Team of Heroes" worked hard digging deep holes and planting the large trees to help create a natural animal-friendly barrier as a deterrent to thieves, which is common following natural disaster, and something the Lagusker family has struggled with.

The Disney team was treated to an animal-filled lunchtime experience and Supervisor Kathryn Barger attended the event to present a $100,000 grant to Habitat LA to continue the fire relief work.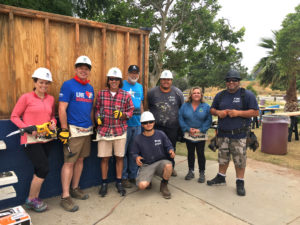 At the Sylmar Independent Baseball League (SIBL), volunteers from Thrivent Financial, and Dana Anton, our first recipient of fire repair services, volunteered to help repair shade structures destroyed during the high winds that perpetuated the December fires. Many of the children who utilize the 22-acre SIBL facility come from low to moderate income families and the structures are essential to keeping the kids cool in the summer.
Habitat LA is working to bring individuals, corporations, elected officials and community organizations together to help rebuild homes, businesses and community facilities across greater Los Angeles. We invite you to join us!