In honor of World Habitat Day on October 6th, we invited some of our partner homeowners to share their stories about homeownership.  It is because of these wonderful families we do what we do and it's because of our volunteers and supporters we are able to do it.  Thank you.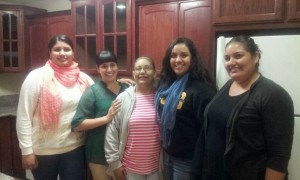 Angelica Cortez-Hernandez
Lynwood, CA
Homeownership is important to my family and me because it has given us a home we can now call our own. My sister and I began working at early ages so that we could help with rent, utility bills, food and so forth. Even though we all worked, it was never enough to save towards a 15%-20% home down payment. Sometimes owning a home seemed impossible but then our mom would say "no se preocupen, con ganas todo se puede en este mundo," which translates to "don't worry, anything is possible in this world as long as you have the will to accomplish it." Our mom always was and is our motivation. She encouraged us to strive towards our goals and that is why buying her a home meant so much to us. We all used to say, "once we graduate from college and get better-paying jobs, then mom,, we will buy you a beautiful home." For us a home has never been about status but instead about unity. A place where we could all come together and enjoy each other's company. Owning a home means that we will always have the comfort of knowing that our mom will always have a place to call her own. A place where she can do as she pleases by painting the walls, planting new fruit trees, or even dancing in the back yard. For us owning a home means freedom, stability, comfort, unity and so forth. So thank you, Habitat for Humanity for helping us achieve our goal!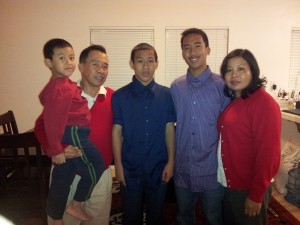 Chanthy Yi
Long Beach, CA
Chanthy Yi's "Feelings of Homeownership"
As I own a home in Long Beach, California that was kindly made possible by the amazing Habitat for Humanity of Greater Los Angeles' personnel, I feel very proud, overjoyed, honored with a great sense of accomplishment and understand the meaning of the saying "The American Dream Is To Own a Home."
To own a home is the main asset a family can obtain which can provide a strong foundation to properly raise the family, ensure security, provide good health, comfort, safe environment, and be able to enrich my children' education for their bright future, and they can reach their potential to be somebody worthwhile in the society.
To own a home is the smartest choice for the family's future, settling down for life, never have to move from place to place again, just rooted one place and live happily with the family, and keep achieving many other good things in life.
To work hard to own a home is to set a very good example to my children and inspire other people to go with my same path, to recognize the value of working hard, have faith, never give up to own a home, and take time to volunteer to help building homes for other people and the community.
I feel deeply indebted and always thankful to all the wonderful personnel of the Habitat for Humanity of Greater Los Angeles who helped me to own a nice home to live with my family!!
If you are interested in learning more about partnering with Habitat for homeownership opportunities, please click here or share with someone who may wish to learn more.  
Join our World Habitat Day Twitter party on October 6th from 1pm to 2pm PDT – click here for details.