We love when our partner families share their experiences with us.  Tiffany Ortiz and her family are working on their sweat equity and will soon be moving into their own Habitat LA home in Long Beach. Tiffany's husband Carlos and their two sons recently volunteered during Habitat LA's partnership day with the Compton Initiative, a non-profit organization founded in 2006 with a 40-year commitment to restore the City of Compton by painting homes, schools and churches on quarterly workdays in partnership with individual volunteers and other organizations. And it seems they have truly embraced the Habitat vision of a working together for a better world and are creating and life-long impact and memories for their family.
Carlos got back so inspired! All weekend long he kept talking about how special the event was, and how even after we are done with our sweat equity hours, he looks forward to going back every quarter to participate. The boys got back a little tired but Carlos said they worked hard and are proud to have participated. We are so proud of them!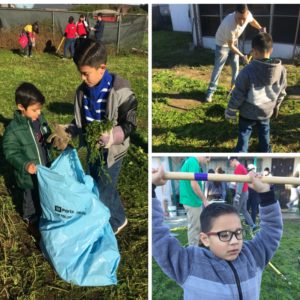 We are beyond grateful to Habitat for Humanity. Not only because of the house, but because of the AMAZING experiences we get to enjoy throughout the journey. We can see something special growing, especially in our children. They are learning the value of a hard day's work. They get to feel the immeasurable satisfaction and joy to serve and bless strangers! They are even benefiting from the Home Depot Workshops! They have been taking apart and putting toys back together with screw drivers!
Honestly, the house is the cherry on top of this amazing process, and to think we are just getting started!
The Compton Initiative brings hope and restoration to Compton through quarterly beautification events. To join the next event in May, please visit http://justdogood.org.