Build day is one of the first community projects for new nonprofit organization
Los Angeles, CA – October 27, 2017: The newly established South Bay Cares organization is partnering with Habitat for Humanity of Greater Los Angeles (Habitat LA) for a build project in the greater Los Angeles area. On October 27, 2017, 40 South Bay Cares members will help with home repairs at one of Habitat LA's projects in Torrance.
"We, at South Bay Cares, are so excited to take part in a Habitat for Humanity of Greater Los Angeles build day and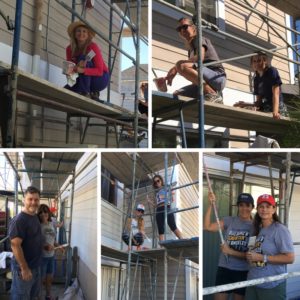 support this wonderful organization," shared South Bay Cares Co-Founder, Courtney Lingle. "I was introduced to this wonderful cause by The Agency, the company I work for, and knew it was a perfect fit for South Bay Cares. We are a socially minded nonprofit dedicated to advocating for human, environmental and constitutional rights, what a better way to spend the day."
South Bay Cares members have a goal to raise $10,000 to support Habitat LA and their work. The organization is dedicated to giving back to the community they live in and raising awareness about the need for affordable housing.
"We are appreciative of advocates like Courtney who are moved to activating change in their own community," says, Erin Rank, President and CEO, Habitat LA. "We are thrilled that South Bay Cares has chosen Habitat LA as one of their first partners in creating that change and we look forward to a continuing partnership with the organization."
South Bay Cares is actively raising funds to support their build day initiative. If you are interested in donating, you can visit their fundraising page at https://www.crowdrise.com/south-bay-cares-build-day/fundraiser/habitatforhumanityla. 100% of funds raised will go towards supporting Habitat LA's affordable housing efforts in the greater Los Angeles area
Stay informed on all Habitat LA events and news on Twitter @HabitatLA (#BuildLA), Instagram @HabitatLA and Facebook.
About Habitat for Humanity of Greater Los Angeles
Habitat for Humanity of Greater Los Angeles (Habitat LA) brings people together to build homes, communities and hope. As the top nonprofit homebuilder in the greater Los Angeles area with five consecutive Charity Navigator 4-Star ratings, Habitat LA has partnered with volunteers, donors and Habitat homeowners to build, renovate and repair more than 1,300 homes locally and worldwide since 1990. The lives of thousands of individuals have been transformed as a result of having a decent and affordable place to call home. Habitat homeowners help build their own homes and pay an affordable mortgage. By supporting Habitat LA through volunteerism, donations and supporting affordable housing, everyone can help families achieve the stability and self-reliance they need to build a better future. To learn more, visit dev.habitatla.org.
About South Bay Cares
South Bay Cares is a socially-minded nonprofit dedicated to advocating for human, environmental and constitutional rights through community action. It is a 501(c)3 nonprofit organization. For more on the organization, visit https://www.southbaycares.com/
# # #
Contacts:
Yvonne Lara
Habitat LA
424-246-3187
ylara@habitatla.org
Angela Moore
Starfish P.R.
310-429-8868
angela@starfish-pr.com