Partner Family Homeowners to Receive Keys During a Dedication event on Saturday, August 29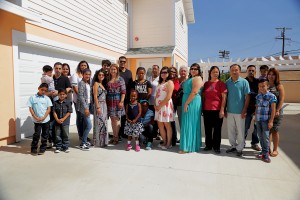 Los Angeles, CA (August 26, 2015) – Habitat for Humanity of Greater Los Angeles (Habitat LA) will dedicate a seven home development, located at 3305 Magnolia Ave, in Lynwood, CA on Saturday, August 29. The seven partner homebuyer families have contributed hundreds of sweat equity hours toward the building of their homes and will pay back a monthly interest-free mortgage. The dedication will take place from 11am to 1pm and will celebrate hundreds of hours of hard work and the fulfillment of a lifelong dream for these seven hardworking, low-income families.
The completion of this seven-home development brings the number of homes Habitat LA has built, rehabilitated, or repaired in the City of Lynwood to nearly 100. Habitat LA designated the City of Lynwood as a Neighborhood Revitalization Initiative focus community in 2009. Since then, Habitat LA has invested nearly $25 million in the Lynwood community and plans to replicate this model in two new initiative areas: Long Beach's Washington Neighborhood and Los Angeles.
"Habitat for Humanity's work in our community is a godsend," said Lynwood City Councilwoman Aide Castro. "With zero funds for community redevelopment coming in from the state, we [the City] don't have the means to do what Habitat for Humanity can do for families. Habitat for Humanity comes in and builds, rehabilitates and repairs homes with help from families in need of homes, volunteer labor and donations. What Habitat can do for families, no one else can do and we are honored to be among the cities Habitat has chosen to work with in hopes of giving families the opportunity to live their American dreams."
The dedication will recognize many sponsors and volunteers whose contributions of funds, time and services made the building of these homes possible. Construction began in November of 2013 during Habitat LA's Hollywood for Habitat for Humanity Build-A-Thon. The late Michael Graves, famed architect and a long-standing advocate for the disabled, designed one of the homes in partnership with JCPenney Cares. The three-bedroom, 1.5 bath single story home focuses on accessibility. The other six homes are two stories with three bedrooms and 2.5 baths.
"It's been a pleasure to work with the City of Lynwood, these seven families, as well as all of our generous sponsors and volunteers on completing these beautiful homes," says Erin Rank, Habitat LA President and CEO. "This dedication is a great way to celebrate our work in this city, which has resulted in economic growth and a stronger community."
Habitat LA is pleased to welcome these seven families home:
The Hernandez Family
The Magana Family
The Payton Family
The Ramirez Family
The Rendon Family
The Renteria Family
The Tan Family
The building of this seven-home development would not have been possible without the following lead supporters:
JCPenney Cares
City of Lynwood
The Catholic Coalition
The Gary D. Magness Foundation
Grifols
Wells Fargo
Vons
About Habitat for Humanity of Greater Los Angeles
Habitat for Humanity of Greater Los Angeles (Habitat LA) strives to eliminate substandard housing through advocacy, education and partnership with families and individuals in need to build decent, sustainable and affordable housing. Since 1990, Habitat LA has built, rehabilitated and repaired more than 1,000 homes locally and worldwide, transforming the lives of thousands of individuals. Habitat LA is a Guide Star® Valued Partner and has four consecutive Charity Navigator 4-Star ratings awarded to non-profits for sound fiscal management and commitment to accountability and transparency. Habitat for Humanity International recognized 14 affiliates out of more than 1400 as Affiliates of Distinction for 2015-2017 and Habitat LA is proudly one of them. For more information, please visit www.habitatla.org or call 310-323-4663.
Media Contact:
Ali Mullin
Habitat for Humanity of Greater LA
(310) 502-1269
amullin@habitatla.org