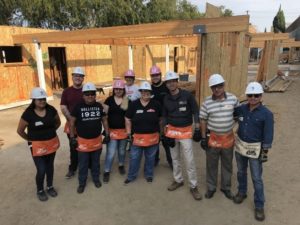 Volunteering franchisees and employees from locally owned and operated Papa John's stores in the greater Los Angeles area teamed up with Habitat for Humanity of Greater Los Angeles (Habitat LA) to sponsor a build day.  Fifteen Papa John's team members joined Habitat LA volunteers and spent the day on site at the new 10-home Habitat LA build project in Culver City.
After a quick orientation to get the Papa John's volunteers familiar with the site, participants went straight to work where they were taught skills from cutting wood with a table saw, and using other power tools, to securing the structural elements of the frame.
"We appreciate having had the opportunity to donate our time to such an important project, that was not only rewarding, but also a great team building exercise for the Papa John's staff," said Mark Catania, Papa John's Southern California franchisee, steering committee member, and volunteer on the build site. "It's a great feeling knowing that our work on the home build was contributing to Habitat LA's greater mission of bringing people together to build homes, communities and hope."
Erin Rank, President and CEO, Habitat LA, said, "Habitat LA cannot fulfill our mission without the support of corporate donors and volunteers, like Papa John's. It is great when a company brings their employees to one of our sites for a day of team building.  Together, we are working towards our vision of a world where everyone has a decent place to live."
This sponsorship is one of many that Papa John's Southern California is actively involved with, in an effort to support organizations giving back and doing important work in the greater Los Angeles community.  This initiative was especially important to Papa John's because of Habitat LA's dedication to serving families throughout Los Angeles. Partnering with very low-income families to build or rehabilitate homes is the hallmark of Habitat for Humanity's successful approach to eliminating poverty housing one house at a time. Habitat for Humanity of Greater Los Angeles has been able to accomplish a great deal, thanks to the support of our volunteers, such as Papa John's, and donors.