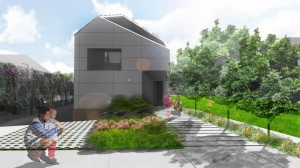 Over the past year, we have worked closely with Los Angeles County and the Southern California Institute of Architecture (SCI-Arc) to design and secure funding, as well as land, for an affordable home that focuses on innovation and sustainability. SCI-Arc students have completed plans for a "green" home located at 1232 West 101st Street in the Athens neighborhood of LA County. Students will now help to build the home beginning today, June 9th, and lasting through the middle of summer. Once the 3 bedroom, 2.5 bath home is built, students will walk away with the valuable experience of designing and constructing a revolutionary, environment-friendly, affordable home for a hardworking, limited-income family.
To learn more about the Southern Institute of Architecture and Habitat for Humanity of Greater Los Angles Affordable Housing partnership, please visit: http://ridley-thomas.lacounty.gov/index.php/affordable-home-athens/.
Click HERE to view a project one-sheet.