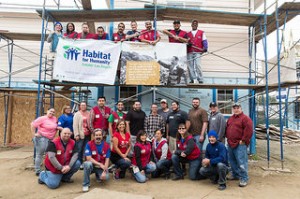 LOS ANGELES (Jan. 29, 2015) — Twenty-nine Lowe's Heroes employee volunteers put the words of Dr. Martin Luther King Jr. into action on January 20 while volunteering with Habitat for Humanity of Greater Los Angeles (Habitat LA). The group helped with painting and drywall projects on a site in the City of Lynwood where seven affordable Habitat LA homes are currently under construction.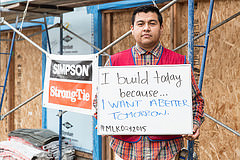 "I felt Lowe's coming out to build in honor of Martin Luther King Jr. was really important because he sacrificed so much to change society. So to come out today to better the life of someone in our local community through Habitat LA means so much to our associates," said Angy Smith, Store Manager, Lowe's Norwalk.
In addition to building, Lowe's Heroes employee volunteers read Dr. Martin Luther King Jr. quotes during an interactive lunch program. They also heard from Habitat LA partner homebuyer, Nikki Payton. Nikki is a single mother of three who works as a licensed vocational nurse, helping children suffering from severe emotional issues.
"We don't even have a heater where we currently live. We are just so glad that we will have a roof over our heads and that it will be our roof. So many people don't have that. We are blessed and so excited," shared Nikki.
Nikki recently completed 500 hours of sweat equity. Sweat equity refers to the hours of labor Habitat LA partner homebuyers spend building their homes and the homes of their neighbors.
"We are so grateful and thankful for the partnership between Habitat LA and Lowe's," said Jennifer Wise, VP of Resource Development, Habitat LA. "Their contribution will help us build more homes for hardworking, low-income families throughout greater LA, which will be a lasting testament to service and Dr. King. "
More than 100 Lowe's Heroes supported construction and repair projects in Charlotte, Los Angeles and New York City to commemorate the day of service. Lowe's is in the second year of a five-year, $23.5 million commitment to Habitat. Since 2003, Lowe's has committed more than $63 million to Habitat and helped ensure safe and affordable housing in partnership with nearly 4,000 families. Click here to see all build day photos.
About Habitat LA
Habitat for Humanity of Greater Los Angeles (Habitat LA) strives to eliminate substandard housing through advocacy, education and partnership with families and individuals in need to build decent, sustainable and affordable housing. Since 1990, Habitat LA has built and repaired more than 1,000 homes locally and worldwide, transforming the lives of hundreds of individuals. Habitat LA is a GuideStar® Valued Partner and has achieved the coveted Charity Navigator 4-Star rating awarded to non-profits for sound fiscal management and commitment to accountability and transparency. For more information, please visit our website or call 310-323-4663.
About Lowe's in the Community
Lowe's, a FORTUNE® 100 home improvement company, has a 50-year legacy of supporting the communities it serves through programs that focus on K-12 public education and community improvement projects.  Since 2007, Lowe's and the Lowe's Charitable and Educational Foundation together have contributed nearly $200 million to these efforts, and for more than two decades Lowe's Heroes employee volunteers have donated their time to make our communities better places to live. To learn more, visit Lowes.com/SocialResponsibility.
Contacts:
Jo-An Turman
Habitat for Humanity of Greater LA
310-749-6613
jturman@habitatla.org
Steve Salazar
Lowe's Companies, Inc.
704-758-4345
steve.j.salazar@lowes.com