Annual All-Women Build Event Set for Saturday, June 6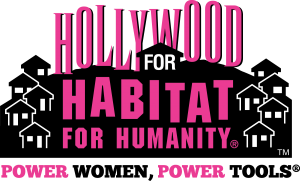 Los Angeles, CA (June 1, 2015) – Habitat for Humanity of Greater Los Angeles (Habitat LA) has invited more than 200 female leaders from different industries and areas across greater Los Angeles to participate in this year's Power Women,  Power Tools ® build presented by Lowe's. Now in its 11th year, the build will take place on Saturday June 6, 2015 from 8:30am to 4:00pm.  Participants will have a hands-on build experience framing walls for three homes for Habitat's future Hyde Park development in Inglewood, Ca.
Participants are leaders in the entertainment, education, faith and corporate sectors. Habitat LA is excited to welcome back longtime partner Lowe's as the title sponsor of this year's event along with new sponsors like Burgner Experiential. Maureen Ausura, executive vice president of human resources at Lowe's, will be joined by 25 Lowe's Heroes employee volunteers from local stores to once again strengthen the Los Angeles community.
"Lowe's is honored to partner with Habitat for Humanity of Greater Los Angeles and participate in Power Women, Power Tools," said Maureen Ausura, chairwoman of the Lowe's Charitable and Educational Foundation. "We are committed to recruiting, educating and inspiring women to build decent and affordable homes with low-income families and being part of an event like this will truly leave a lasting impact on the greater LA community."
Habitat LA's Power Women, Power Tools ® will likely leave volunteers with a few sore muscles, but also inspired and empowered.  Habitat LA's very own power women, its female partner homeowners, will build alongside attendees and share their personal stories.
"Power Women, Power Tools® is one of our most anticipated events of the year," says Erin Rank, Habitat LA's President and CEO.  "It is truly inspiring to have these women leaders joining our Board and staff members, as well as our partner families, to build walls and hope. It is also exciting for our organization to engage these women who have the potential to affect real change by educating their spheres of influence about our work."
Confirmed Power Women, Power Tools Hosts:
Maureen Ausura
EVP, Human Resources
Lowe's
Susan Booth
Partner
Holland & Knight LLP 
Melanie Cook
Partner
Ziffren Brittenham LLP
Stacy McDaniel
Founder
The Leila Fund
Marni Rosenzweig
SVP, Theatrical Departments
Abrams Artists Agency
Confirmed Power Women, Power Tools Honorary Host Committee:
 Hon. Karen Bass
U.S. Congresswoman, D-37
Angela Bassett Vance
Actress
Emily Bergl
Actress
Mablean Ephriam
TV Judge
Shanola Hampton
Actress
Gale Anne Hurd
Valhalla Entertainment
Tracy Hutson
Designer
Tina Knowles Lawson
Designer
Kate Linder
Actress
Nia Long
Actress
Hon. Holly Mitchell
CA State Senator, D-30
Hon. Grace Napolitano
U.S. House of Representatives, D-32
Monica Potter
Actress
Pat Prescott
94.7 The Wave
Hon. Suzie Price
Long Beach Councilmember, D-3
Kelly Rowland
Entertainer
Hon. Lucille Roybal- Allard
U.S. House of Representatives, D-40
Hon. Linda T. Sánchez
U.S. Congresswoman, D-38
Hon. Maxine Waters
U.S. Congresswoman, D-43
Hon. Young Kim
CA State Assembly, D-65
This invitation-only event began eleven years ago with Hollywood for Habitat for Humanity (HFHFH), an entertainment industry partnership with Habitat LA founded by Screenwriter, Director and Producer, Randall Wallace (Braveheart). The goals of HFHFH are to support Habitat LA with donations, volunteer hours and advocacy, engaging the entertainment community in a variety of ways to help raise funds and awareness of Habitat's mission.
About Habitat for Humanity of Greater Los Angeles:
Habitat for Humanity of Greater Los Angeles (Habitat LA) strives to eliminate substandard housing through advocacy, education and partnership with families and individuals in need to build decent, sustainable and affordable housing. Since 1990, Habitat LA has built, renovated and repaired more than 1,000 homes locally and worldwide, transforming the lives of thousands of individuals. Habitat LA is a Guide Star® Valued Partner and has four consecutive Charity Navigator 4-Star ratings awarded to non-profits for sound fiscal management and commitment to accountability and transparency. Habitat for Humanity International recognized 14 affiliates out of more than 1400 as Affiliates of Distinction for 2015-2017 and Habitat LA is proudly one of them. For more information, please visit www.dev.habitatla.org or call 310-323-4663.
About Lowe's:
Lowe's, a FORTUNE® 100 home improvement company, has a 50-year legacy of supporting the communities it serves through programs that focus on K-12 public education and community improvement projects.  Since 2007, Lowe's and the Lowe's Charitable and Educational Foundation together have contributed more than $225 million to these efforts, and for more than two decades Lowe's Heroes employee volunteers have donated their time to make our communities better places to live. To learn more, visit Lowes.com/SocialResponsibility and LowesInTheCommunity.tumblr.com.
Media Contacts:
Ali Mullin
Habitat LA
310-502-1269
Jo-An Turman
Habitat LA
310.749.6613
Jenny Popis
Lowe's Companies, Inc.
704-758-2157
###