The Prince Tribute Band has been electrifying audiences worldwide since Prince's untimely passing. They thrilled Los Angeles recently on the steps of LA City Hall to honor the legendary artist. The band presents Princes' music authentically and the exact way as if he was still here performing with them. Under the direction of Prince's last bassist, Andrew Gouche, and featuring his last keyboardist, Dominic Taplin, the Tribute Band is official. The band will be joined during the LA Builders Ball tribute by Grammy Nominated R & B artist Shanice Wilson.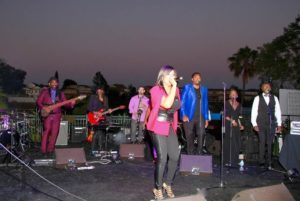 Shanice Wilson has been singing since she was only 7 months old and throughout the years she just kept getting better and better. At the age of 8, she was picked to sing in a Kentucky Fried Chicken Commercial with the legendary Ella Fitzgerald and was also a first prize winner on, Star Search. By the time Shanice was 11 years old, she had signed her first recording contract with A&M Records and released her debut album "Discovery" in 1987 at 14. While Shanice got a lot of exposure from her first two singles "(Baby Tell Me) Can You Dance" and "No 1/2 Steppin'", it was her smash hit single "I Love Your Smile" off her 1991 "Inner Child" album (released on Motown Records) that brought her international fame. "I Love Your Smile" topped the Billboard R&B charts at #1 while it also peaked at #2 on the Billboard Pop charts. In 1995, Shanice was cast in the role of Eponine in the musical Les Miserables and also made a cameo appearance in the movie Panther. Four years later, Shanice released her fourth album and broke a Billboard record when her single "When I Close My Eyes" made a tremendous jump on the Billboard Hot 100 in one week from #91 to #16. In February of 2000, Shanice married actor/comedian Flex Alexander.
The evening includes a cocktail reception, dinner and auction. All proceeds will support Habitat LA's work revitalizing neighborhoods and increasing access to affordable homeownership and home repair opportunities.