Four Builders will Construct Four New Homes in South L.A. in just 11 Days
Los Angeles, CA — April 16, 2019: Habitat for Humanity of Greater Los Angeles (Habitat LA) is partnering with four of the nation's top construction companies to build four new homes in just 11 days for future Habitat homeowners in the Willowbrook area (119th Street) of the city of Los Angeles. The Home Builders Blitz will kick-off Monday, April 29th at 7am and will conclude on Friday, May 10th at 1pm with a celebratory home dedication ceremony for the four new homeowners.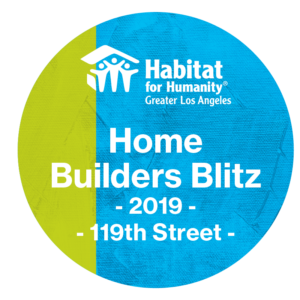 The Home Builders Blitz is a result of a first-time collaboration between the County of Los Angeles, Habitat LA and the four renowned construction firms, who are mobilizing local contractors and suppliers to build affordable homes for four hard working families in record time. Participating builders include Clark Construction, Gilbane Building Company, Turner Construction Company, and The Whiting-Turner Contracting Company. Additionally, more than 40 subcontractors will be donating their time.
Each day, more than 100 skilled tradespeople will be working tirelessly from sun up to sun down in partnership (and a bit of competitive spirit); donating the necessary building materials, supplies and hours of labor for the event to help change the lives of the partner families, who will also help build their homes.
"Building four homes in a matter of days is no easy feat; it requires the partnership of generous builders, the engagement of all their subcontractors, significant support from Los Angeles County, and months of planning and preparation," said Erin Rank, President and CEO of Habitat LA. "We are grateful to our building industry partners, who are typically focused on building much larger commercial projects, for understanding the importance and impact of having safe, affordable homes and helping provide that for our families."
Meet the 2019 Home Builders Blitz Homeowners
The Perez-Herrera Family: For Jose and Wendy Perez-Herrera, the dream of homeownership means privacy, joy, serenity, stability, and most of all, security for them and their daughters Samantha, 14, and Vanessa, 16. Owning a house also means saving money to invest in their future.
The Magdaleno Family: For the last 11 years, Elizabeth Magdaleno and her two sons, Francisco and Nicholas, have lived in a small one-bedroom apartment in Los Angeles. As an Eligibility Worker for the County of Los Angeles, and as a volunteer at her church, Elizabeth has experienced the joy of helping other families and giving back to her community. Now she has the opportunity to see her community give back to her.
The Marks Family: Over the last six years, Doris and Nidra Marks have seen the rent for their apartment consistently increase, and ever since Isaiah came into their lives as a foster child two years ago, their apartment has become too small for them. As her home gradually takes shape, Doris is grateful for the opportunity to have a vested interest in the community and its' redevelopment. The process of becoming a Habitat LA family has taught them the importance of helping out in their community.
The Valiente Family: Maria Albanez de Valiente and her son, Luis Valiente, are currently sharing a cramped one- bedroom residence in Hollywood that doesn't afford either of them much privacy. Fulfilling their dream of homeownership will allow both to have a private space they can call their own.
For these families, the journey to homeownership includes trainings and classes through Habitat LA's Family Investment Program, as well as completing up to 500 hours of sweat equity, working alongside construction staff to build their future Habitat home and the homes of other Habitat homebuyers. Each qualified Habitat LA partner family is a first-time homebuyer with good credit and a demonstrated need for affordable housing. In addition to the affordable monthly mortgage payments, partner homeowners are responsible for the down payment, ultimately providing them with the foundation for strength and stability for their future.
These newly constructed homes will be two-stories with three bedrooms (1315 sq. ft) and four bedrooms (1451 sq. ft) layout. Both models will have two bathrooms and come equipped with several environmentally friendly features including drought tolerant landscaping, electric car charging ports, energy-efficient heating and cooling systems, insulation made from recycled content, low-flow plumbing fixtures, and solar ready systems.
About Habitat for Humanity of Greater Los Angeles
Habitat for Humanity of Greater Los Angeles (Habitat LA) brings people together to build homes, communities and hope. As the top nonprofit homebuilder in the greater Los Angeles area with five consecutive Charity Navigator 4-Star ratings, Habitat LA has partnered with volunteers, donors and Habitat homeowners to build, renovate and repair more than 1,300 homes locally and worldwide since 1990. the lives of thousands of individuals have been transformed as a result of having a decent and affordable place to call home. Habitat homeowners help build their own homes and pay an affordable mortgage. By supporting Habitat LA through volunteerism, donations and supporting affordable housing, everyone can help families achieve the stability and self-reliance they need to build a better future. To learn more, visit www.habitatla.org.
# # #
Media Contacts:
Genetric Brown
Habitat LA
O: 424-246-3187
C: 310-808-5902
gbrown@habitatla.org
Angela Moore
Starfish P.R.
C: 310-429-8868
angela@starfish-pr.com