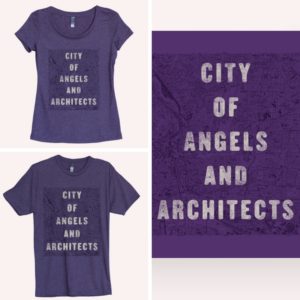 Wear your pride for Los Angeles, while making a difference in the lives of Angelenos. Screens For Good in New Orleans has generously designed t-shirts and posters in support of Habitat for Humanity's building efforts in cities across the U.S. We hope you'll support our efforts locally by purchasing one (or more) to help us continue our commitment of Building a Greater Los Angeles! Because everyone deserves a decent and affordable place to call home.
Each shirt or poster purchased helps us build more affordable housing right here in the community. These t-shirts are available in Men's and Women's styles and sizes.
TIME IS RUNNING OUT!!
The last day to order your City of Angels & Architects t-shirt or poster is February 16th, so be sure to order yours today. And while you're there, why not get one for a loved one too!