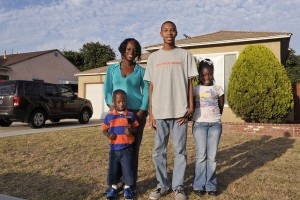 March Madness is upon us! In the competitive spirit of the tournament, Habitat for Humanity of Greater Los Angeles (Habitat LA) is participating in the BreadBoost Bracket Challenge sponsored by Pastime Tournaments. Just as our favorite college teams will be facing off, Habitat LA will compete against other non-profits in elimination rounds for a chance to win $10,000 on top of the funds we raise during the campaign.
The first "round" of fundraising is underway and will continue through March 14th. The four organizations with the most funds raised at that time will have an additional week to continue fundraising. The top two organizations will then advance and compete, head-to-head, during the last week of March to see who will raise the most money and claim the $10,000 prize.
Let's channel the energy of this time of year to win this bracket! Our hardworking, low-income partner families are the ones who will come out on top as the true winners!
Visit our link today to make a donation: https://www.breadboost.com/fundraisers/39/participants/353