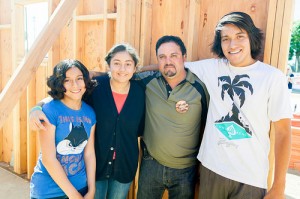 Recently, ABC7 named Alberth Mimila as its Cool Kid of the week, and we at Habitat LA couldn't be happier! As you may know, Alberth helped his father, Ignacio Mimila, build their family's home and complete his 500 hours of sweat equity.
Aside from volunteering to help build homes for families across the greater Los Angeles area, Alberth also volunteers with the Action Sports Kids Foundation (ASK), which is a non-profit organization based in Long Beach that provides youth with an alternative to street life through sports, education and the arts. With ASK, Alberth shares his passion for skateboarding with other youth in the area, and even teaches them some of his favorite tricks. ASK's Skate Park Program is considered one of the most successful in the country, as it helps kids stay in school and stay out of trouble.
"He's responsible, he's level headed and he believes in helping others, and that's very rare and that's such a great quality for a young person to possess," said JoAnn Turman of Habitat LA.
Alberth believes that everyone can make a difference in the world, and he is definitely doing his part to live up to his words. You really are a cool kid, Alberth! Keep up the great work!
To see the ABC7 Cool Kid feature on Alberth, click HERE.