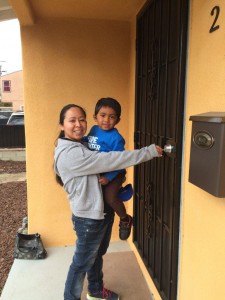 Los Angeles, CA (May 1, 2015) – Habitat for Humanity of Greater Los Angeles (Habitat LA) will celebrate Air Force Veteran, Roxana Gomez's, latest accomplishment of homeownership. The dedication celebration will take place Friday, May 1 in Long Beach.
This home rehabilitation would not have been possible without the City of Long Beach's generous donation of the property through The Long Beach Community Investment Company (LBCIC). The LBCIC assists in the development of affordable housing and improvement of neighborhoods through a variety of federal and state-funded programs.
Roxanna courageously spent five years in the U.S. military and completed two tours in Kuwait and South Korea. Roxanna is a single mother who continues to serve her local community as a veteran representative for an employment development agency and a member of Habitat LA's Veterans Advisory Council. Habitat LA will use this dedication as an opportunity to recognize donors who have supported its Habitat for Heroes Veterans initiative. Habitat for Heroes seeks to assist, engage, mobilize and educate military members and veterans about Habitat for Humanity's programs and services.
These sponsors include The Home Depot Foundation, which supports home repairs for veterans; the Military and Veterans Appreciation Trust (MVAT) Foundation, which diligently raises funds to assist U.S. military veterans and their families; and Alexandra McLeod and John Z. Blazevich.
"It has been very fulfilling for all of us at Habitat LA serving Roxana, who served our country in the Air Force," says Erin Rank, president/CEO of Habitat LA. "Roxana will make a great homeowner and member of her new community."
Habitat LA staff, volunteers and donors will be joined by a representative from Councilman Rex Richardson's office, of Long Beach's ninth district.
Event Details
Friday May 1, 2015
2 p.m. – 3p.m.
271 E. Cummings Lane
Long Beach, CA 90805
About Habitat for Humanity of Greater Los Angeles
Habitat for Humanity of Greater Los Angeles (Habitat LA) strives to eliminate substandard housing through advocacy, education and partnership with families and individuals in need to build decent, sustainable and affordable housing. Since 1990, Habitat LA has built, renovated and repaired more than 1,000 homes locally and worldwide, transforming the lives of thousands of individuals. Habitat LA is a Guide Star® Valued Partner and has four consecutive Charity Navigator 4-Star ratings awarded to non-profits for sound fiscal management and commitment to accountability and transparency. Habitat for Humanity International recognized 14 affiliates out of more than 1400 as Affiliates of Distinction for 2015-2017 and Habitat LA is proudly one of them. For more information, please visit www.habitatla.org or call 310-323-4663
###
Media Contact:
Jo-An Turman
Habitat for Humanity of Greater LA
(310) 749-6613
jturman@habitatla.org