Funds to Help Rebuild Four Homes in Long Beach Neighborhood
Los Angeles, CA – November 7, 2017: Habitat for Humanity of Greater Los Angeles (Habitat LA) has been awarded a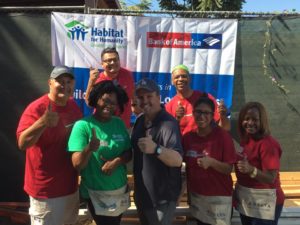 $25,000 economic mobility grant from Bank of America. Bank of America representatives recently presented a check to Habitat LA during a day of service in the Watts neighborhood, where Bank of America volunteers spent the day building a Habitat LA home alongside future homeowner Denise Harris. Funds from this grant will be used to help Habitat LA complete its Henderson project, a four-home neighborhood currently underway in Long Beach.
"Bank of America has been a valuable supporter of our mission for many years and we are grateful for this grant, which will help four Habitat LA partner families achieve their dream of homeownership," says Erin Rank, President and CEO, Habitat LA. "Bank of America not only supports our work through grants, they encourage their employees to become active participants in our work, creating a personal connection and engaging them deeply with their local community."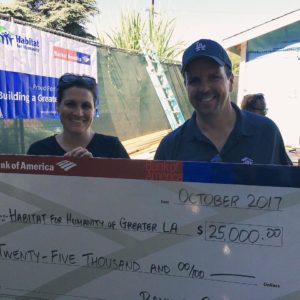 Bank of America has partnered with Habitat for Humanity for over 30 years to provide much needed funding and employee volunteers to help build affordable homes. This October marked the fourth annual Habitat Global Build (#GlobalBuild) in which more than 2,500 Bank of America employee volunteers spent a week working alongside Habitat for Humanity affiliates to address affordable housing challenges and revitalize neighborhoods in more than 88 communities across six countries, including the U.S.
"If we can give even one hardworking family a chance at homeownership, it can cause a spark that changes the entire face of a neighborhood," said Raul A. Anaya, Los Angeles Market President, Bank of America. "We're proud to partner with Habitat LA through grant giving and volunteer hours which will continue to bring affordable housing to communities throughout Los Angeles."
The Henderson development is part of the Washington Neighborhood, located in the first district of Long Beach, just north of the city's downtown improvement area. Habitat LA has committed to serve this community through its Neighborhood Revitalization initiative and plans to complete at least 54 homes in this area.
Stay informed on all Habitat LA events and news. Visit habitatla.org, follow @HabitatLA on Twitter, Instagram, and Snapchat, and Like on Facebook.
About Habitat for Humanity of Greater Los Angeles
Habitat for Humanity of Greater Los Angeles (Habitat LA) brings people together to build homes, communities and hope. As the top nonprofit homebuilder in the greater Los Angeles area with five consecutive Charity Navigator 4-Star ratings, Habitat LA has partnered with volunteers, donors and Habitat homeowners to build, renovate and repair more than 1,300 homes locally and worldwide since 1990. The lives of thousands of individuals have been transformed as a result of having a decent and affordable place to call home. Habitat homeowners help build their own homes and pay an affordable mortgage. By supporting Habitat LA through volunteerism, donations and supporting affordable housing, everyone can help families achieve the stability and self-reliance they need to build a better future. To learn more, visit dev.habitatla.org
# # #
Media Contacts:
Yvonne Lara
Habitat LA
310-508-5783
ylara@habitatla.org
Angela Moore
Starfish PR
310-429-8868
angela@starfish-pr.com