The Mimila Family Received the Keys to their New Long Beach Home during a "Home for the Holidays" Dedication Ceremony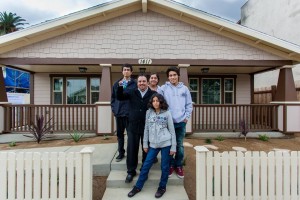 Los Angeles, CA – January 14, 2015:  When Mrs. Mimila passed away from breast cancer in 2010, Ignacio Mimila promised his wife that he would honor her wish to provide a home for their four children. Thanks to the support of Thrivent Financial and its Thrivent Builds program, Habitat for Humanity of Greater Los Angeles (Habitat LA) was able to help Mr. Mimila realize his dream of homeownership and honor his promise to his wife. On Saturday, December 20th, the Mimila family received the keys to their new Habitat LA home during a ceremony that included the Honorable Robert Garcia, Mayor of Long Beach, representatives from The Long Beach Community Investment Company, as well as local Thrivent Financial supporters and volunteers from Habitat LA's Lutheran Coalition who helped build the Mimila home.  This marks the ninth Thrivent Builds home built in greater Los Angeles and Thrivent Financial has already announced a commitment to build two homes with Habitat LA in 2015!
"It's been a joy to partner with Ignacio and his beautiful family to build their new home. Ignacio is such a hardworking and dedicated father and we are grateful to Thrivent Financial for partnering with us to help make Ignacio's dream come true," said Erin Rank, President and CEO, Habitat LA. "We are so thrilled to have welcomed the Mimila's into their new home right before the holidays.  We are also excited to announce that by the next holiday season, we will be able to welcome home two more families, thanks to the generous support of Thrivent Financial and Lutheran churches throughout greater Los Angeles."
Thrivent Financial is a not-for-profit Fortune 500 financial services membership organization helping approximately 2.5 million members achieve financial security and give back to their communities. Thrivent Builds with Habitat for Humanity is a multi-year, $200 million dollar partnership between Thrivent Financial and Habitat for Humanity International. Thrivent Builds is designed to involve Thrivent members and Christians in helping provide a hand up to people in need of affordable housing. More than 4,300 homes have been built through the Thrivent Builds program and this year Thrivent Financial and Habitat LA have built their ninth home in partnership together here in greater Los Angeles.
The Long Beach Community Investment Company (LBCIC) assists in the delivery of housing and neighborhood revitalization services, and continues administration of the City's affordable housing funds. The City of Long Beach is a longtime partner of Habitat LA.  This project would not be possible without their involvement, which has made homeownership a reality for the Mimila family.
Local Churches who helped build the Mimila home:
Ascension Lutheran Church of Rancho Palos Verdes
Bethany Lutheran Church of Long Beach
Bethel Lutheran Church of Los Angeles
Christ Lutheran Church of Long Beach
First Lutheran Church of Manhattan Beach
First Lutheran Church of Torrance
Good Shepherd Lutheran Church of San Pedro
Grace Evangelical Lutheran Church of Culver City
Lutheran Church of the Good Shepherd of Torrance
Palisades Lutheran Church
Resurrection Lutheran Church of Redondo Beach
St. Luke's Lutheran Church of Long Beach
Trinity Lutheran Church of Hawthorne
Trinity Lutheran Church of Manhattan Beach
Westchester Lutheran Church
About Habitat for Humanity of Greater Los Angeles
Habitat for Humanity of Greater Los Angeles (Habitat LA) strives to eliminate substandard housing through advocacy, education and partnership with families and individuals in need to build decent, sustainable and affordable housing. Since 1990, Habitat LA has built and repaired more than 1,000 homes locally and worldwide, transforming the lives of hundreds of individuals. Habitat LA is a GuideStar® Valued Partner and has achieved the coveted Charity Navigator 4-Star rating awarded to non-profits for sound fiscal management and commitment to accountability and transparency. For more information, please visit our website or call 310-323-4663.
# # #
Media Contacts:
Jo-An Turman
Habitat LA
O: 424-246-3175