Habitat for Humanity International awarded 14 affiliates out of its more than 1,400 in the U.S.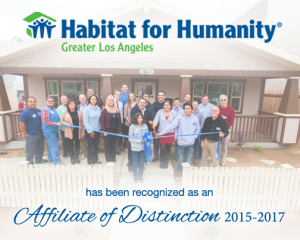 Los Angeles (February 24, 2015) — Habitat for Humanity of Greater Los Angeles (Habitat LA) has been named one of 14 "Affiliates of Distinction" by Habitat for Humanity International for its achievements and innovation in serving the greater Los Angeles area. This is the second time Habitat LA has been selected into this award program.
"Habitat LA's Board of Directors, staff and volunteers give of their time and hearts meeting the affordable housing needs of hardworking, low-income families," says Erin Rank, President/CEO of Habitat LA. "It makes me very proud to see our efforts again recognized in this way and my hope is that this honor will only help to propel our ministry."
Since 1990, Habitat LA has built and renovated more than 1,000 homes locally and internationally. This equates to nearly 4,000 people served through better housing solutions. In the past 25 years, eight partner homeowners have also paid off their mortgages and Habitat LA's mortgage default rate is less than 0.5%. Habitat LA has opened its third ReStore with locations now serving Norwalk, Torrance and Bellflower. In addition, the city of Bellflower is now home to Habitat LA's headquarters. In July 2015, Habitat LA is looking forward to kicking off its 25th Anniversary year.
Launched in 2013, Affiliates of Distinction was established by Habitat for Humanity International to honor U.S. affiliates that meet or exceed best-practice standards. Recipients maintain their recognition for two years, after which they reapply for the following award period.
The 2015-2017 awardees include:
Austin Habitat for Humanity (Texas)
Genesee County Habitat for Humanity (Michigan)
Greater Des Moines Habitat for Humanity (Iowa)
Habitat for Humanity Huron Valley (Michigan)
Habitat for Humanity of Charlotte (North Carolina)
Habitat for Humanity of East Bay/Silicon Valley (California)
Habitat for Humanity of Greater Los Angeles (California)
Habitat for Humanity of Greater San Francisco (California)
Habitat for Humanity of Monroe County (Indiana)
Habitat for Humanity Seattle-King County (Washington)
Milwaukee Habitat for Humanity (Wisconsin)
Our Town of North Mecklenburg-Iredell County (North Carolina)
Portland/East Metro Habitat for Humanity (Oregon)
Sacramento Habitat for Humanity (California)
The 14 Habitat affiliates will be recognized during a special ceremony at Habitat's biennial U.S. Affiliate Conference in March.
Habitat affiliates considered for the honor were reviewed by seven criteria: sustainable and green building; overall organizational leadership; community development; financial sustainability; alignment with Habitat for Humanity's strategic plan; effective use of technology to better communication with the public; and support for Habitat's global mission.
About Habitat for Humanity of Greater Los Angeles
Habitat for Humanity of Greater Los Angeles (Habitat LA) strives to eliminate substandard housing through advocacy, education and partnership with families and individuals in need to build decent, sustainable and affordable housing. Since 1990, Habitat LA has built and repaired more than 1,000 homes locally and worldwide, transforming the lives of hundreds of individuals. Habitat LA is a GuideStar® Valued Partner and has achieved the coveted Charity Navigator 4-Star rating awarded to non-profits for sound fiscal management and commitment to accountability and transparency. For more information, please visit http://dev.habitatla.org or call 310-323-4663.
About Habitat for Humanity International
Habitat for Humanity International's vision is a world where everyone has a decent place to live. Anchored by the conviction that housing provides a path out of poverty, since 1976 Habitat has helped more than 5 million people through home construction, rehabilitation and repairs and by increasing access to improved shelter through products and services. Habitat also advocates to improve access to decent and affordable shelter and offers a variety of housing support services that enable families with limited means to make needed improvements on their homes as their time and resources allow. As a nonprofit Christian housing organization, Habitat works in more than 70 countries and welcomes people of all races, religions and nationalities to partner in its mission. To learn more, donate or volunteer, visit habitat.org.
Media Contact:          
Jo-An Turman
Habitat for Humanity of Greater Los Angeles
Phone: 310-749-6613
Email: jturman@dev.habitatla.org