Watts Home is the 16th Home Built Locally with Thrivent Builds Since 2005
Los Angeles, CA – February 25, 2019: Habitat for Humanity of Greater Los Angeles (Habitat LA) and Thrivent Builds have completed another affordable home in Los Angeles, marking 16 total since 2005. The Thrivent Builds partnership engages Thrivent agents and local Lutheran congregations to build affordable housing, which helps low-income families to achieve strength, stability, and self-reliance. In 2018, Thrivent donated $300,000 to build two new residences and fund five home repair projects in the Los Angeles area; additionally, they committed to more than $12 million to build Habitat homes around the globe.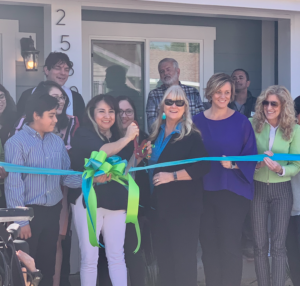 On February 8th, Habitat LA and Thrivent hosted a home dedication ceremony for Mayra Martinez-Gil, a single mother of four. Located in Watts, the single-family home is two stories with 3 bedrooms, 2 bathrooms, and a fenced yard. The home is also equipped with several green features including drought-tolerant landscaping, an energy-efficient heating system, insulation made of recycled content, low-flow plumbing fixtures, and solar power, all of which will help to lower utility bills for the first-time homeowner.
"Thrivent is one of our most engaged partners, having supported Habitat for Humanity around the globe for many years," said Erin Rank, President and CEO of Habitat LA. "We were doubly blessed to have built two homes with Thrivent this past year here in Los Angeles. Their commitment to our mission, not only financially but also through volunteerism, is unparalleled and we are able to serve more hard-working families because of it."
The land for Mayra's home was donated by the City of Los Angeles. The home is part of a multi-year and multi-project partnership with Supervisor Mark Ridley Thomas and the Los Angeles County Community Development Commission to develop affordable homeownership opportunities to residents of the county. The Community Development Commission transferred the land to Habitat LA for the development of this home. In addition to funding the house's construction, Thrivent recruited several hundred volunteers who helped build alongside Mayra to complete the home in less than four months.
"Thrivent is thrilled to have partnered again with Habitat LA to build our 16th home here locally. Our vision is to live generously, and we have been fortunate to be able to do just that alongside hundreds of church volunteers," said Geoff Delahanty, Thrivent Financial Wealth Advisor.
As of 2018, Thrivent Financial has invested more than $252 million and built, renovated, or repaired more than 5,000 homes across the United States and around the world, enlisting the help of more than 760,000 volunteers who provided 5.5 million volunteer hours. Thrivent has invested more than $3 million in greater Los Angeles. Thrivent remains the largest, non-governmental supporter of Habitat for Humanity International.
For Mayra, the journey to homeownership included trainings and classes through Habitat LA's Family Investment Program. She also contributed 500 hours of sweat equity building her own home and the homes of other future homeowners. She will purchase her home with an affordable mortgage and is looking forward to building a better future for her family in their new home.
"Owning a home means giving me and my children the possibility to feel safe and stable," adds Mayra Martinez-Gil.
For more information about Thrivent Builds programs, visit Thriventbuilds.com. To learn about local volunteer opportunities, visit http://www.habitatla.org/get-involved/volunteer/.
About Habitat for Humanity of Greater Los Angeles
Habitat for Humanity of Greater Los Angeles (Habitat LA) brings people together to build homes, communities and hope. As the top nonprofit homebuilder in the greater Los Angeles area with five consecutive Charity Navigator 4-Star ratings, Habitat LA has partnered with volunteers, donors and Habitat homeowners to build, renovate and repair more than 1,300 homes locally and worldwide since 1990. The lives of thousands of individuals have been transformed as a result of having a decent and affordable place to call home. Habitat homeowners help build their own homes and pay an affordable mortgage. By supporting Habitat LA through volunteerism, donations and supporting affordable housing, everyone can help families achieve the stability and self-reliance they need to build a better future. To learn more, visit www.habitatla.org.
About Thrivent and Habitat for Humanity
Thrivent has been a national partner of Habitat for Humanity since 2005. The partnership is designed to involve Thrivent members and other volunteers to improve communities by working alongside families in need of a decent place to live all across the U.S. and around the world. Together with its volunteers, Thrivent has constructed and repaired 5,400 homes in the U.S. and has sent over 1,200 build teams around the world. Thrivent remains the largest non-governmental supporter of Habitat for Humanity International. For more information, visit ThriventBuilds.com.
About Thrivent
Thrivent is a financial services organization that helps Christians be wise with money and live generously. As a membership organization, it offers its more than 2.3 million members a broad range of products, services and guidance from financial representatives nationwide. For more than a century it has helped members make wise money choices that reflect their values while providing them opportunities to demonstrate their generosity where they live, work and worship. For more information, visit Thrivent.com/why. You can also find us on Facebook and Twitter.
###
Contacts:
Habitat LA
Genetric Brown
O : 424-246-3187
C : 310-808-5902
gbrown@habitatla.org
Thrivent
Callie Briese
612-844-7340
callie.briese@thrivent.com
Starfish P.R.
Angela Moore
310-429-8868
angela@starfish-pr.com