Ribbon Cutting and Key Presentation Scheduled for June 24th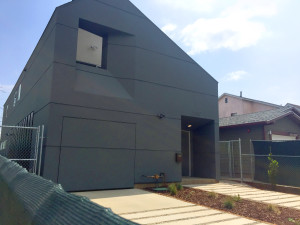 Los Angeles, CA. (June 23, 2016) – Habitat for Humanity of Greater Los Angeles (Habitat LA) in partnership with Los Angeles County 2nd District, Southern California Institute of Architecture (SCI-Arc), General Motors Foundation and Bernards will celebrate the dedication of a new three-bedroom, 2 ½ bath home on Friday, June 24 from 10am to 11am at 1232 W. 101st Street in Los Angeles. Belete Belhu, a U.S. Army Veteran, is purchasing this home, which features a progressive design and environmentally healthy building materials.
Belete with his wife and two young daughters will be moving from a cramped 450 square foot apartment into a 1,150 square foot home that was designed by students from SCI-Arc. Habitat LA's collaboration with SCI-Arc began with the idea for students to gain real-world experience designing and building an affordable home through a series of sequential "studios." Students began by designing the home, then completing the documentation process and finally helping with the home's actual construction alongside Habitat LA staff, hundreds of volunteers and Belete as he completed his sweat equity requirement. Bernards assisted with the construction management process for this uniquely designed home and the General Motors Foundation was one of the major financial supporters who made this home a reality for the Belhu family.
"This unique project was made possible through the generosity, hard work and collaboration between our partners," says Erin Rank, President and CEO of Habitat LA. "The result is a beautiful home that will help the Belhu family build a better future."
"We are all proud of the hard work of SCI-Arc faculty member Darin Johnstone, and all of the SCI-Arc students who set out to prove that design innovation can challenge the status quo of affordable housing. SCI-Arc has always believed that design can change the world, and these students have proven that by building a house that incorporates sustainability, smart materials and novel economic building systems, " says John Enright, Vice Director / Chief Academic Officer of SCI-Arc. " A house is not a home until a family inhabits it, and so to the Belhu family, without whose dedication and help with construction this project would not have been possible, we hope the house serves to be a place of love and prosperity for many years to come. "
Located in the West Athens neighborhood of unincorporated LA County, the land for this home was transferred to Habitat LA by the LA County Community Development Commission. Additionally, the Office of LA County Supervisor Mark Ridley Thomas generously made a financial contribution toward the project.
"This partnership provided a tremendous hands-on learning experience for the architectural students, helped broaden community norms around sustainable and innovative home design for the West Athens Community, and created an attractive and affordable home for the Belhu family," said Los Angeles County Supervisor Mark Ridley-Thomas. "I hope we can expand on this innovative collaboration to deliver many more attractive and affordable homes in the years to come."
In addition to the GM Foundation's financial support, GMC is also helping to furnish the Belhu family home with one-of-a-kind furniture pieces created by local DIY experts from materials found in Habitat LA's ReStores during GMC's 2015 DIY Challenge.
This project is part of Habitat LA's Building a Greater Los Angeles campaign with a goal to invest $100 million by 2020 into revitalizing neighborhoods and increasing access to affordable homeownership opportunities. This investment will also help strengthen the local economy, creating healthier and more affordable homes for low-income families and individuals.
About Habitat for Humanity of Greater Los Angeles
Habitat for Humanity of Greater Los Angeles (Habitat LA) brings people together to build homes, communities and hope. As the top nonprofit homebuilder in the greater Los Angeles area with five consecutive Charity Navigator 4-Star ratings, Habitat LA has partnered with volunteers, donors and Habitat homeowners to build, renovate and repair more than 1,000 homes locally and worldwide since 1990. The lives of thousands of individuals have been transformed as a result of having a decent and affordable place to call home. Habitat homeowners help build their own homes and pay an affordable mortgage. By supporting Habitat LA through volunteerism, donations and supporting affordable housing, everyone can help families achieve the stability and self-reliance they need to build a better future. To learn more, visit habitatla.org.