Kickoff Celebration to Take Place Thursday, August 20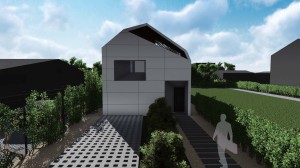 Los Angeles, CA (August 18, 2015) – Habitat for Humanity of Greater Los Angeles (Habitat LA) has joined together with Los Angeles County 2nd District, Southern California Institute of Architecture (SCI-Arc), General Motors Foundation and Bernards to build an innovative, energy-efficient home. The design of the three-bedroom home is progressive and sustainable with a focus on environmentally healthy building materials. A kickoff will take place on Thursday, August 20 from 9 a.m. to 10 a.m. at 1232 W. 101st Street in Los Angeles.
Design is a common theme that runs through all elements of this project. Habitat LA's collaboration with SCI-Arc began with the idea for students to gain real-world experience designing and building an affordable home through a series of sequential "studios." During the fall semester students designed the home, then completed the documentation process during the spring semester and have been working with Habitat LA staff, Bernards and volunteers this summer to help with the home's construction.
Once the home is complete, GMC will be donating one-of-a-kind furniture pieces. Local DIY experts created the pieces out of materials from Habitat LA's ReStore during GMC's DIY Challenge. The GM Foundation has also provided a grant to fund the home build and GM employees have committed to several volunteer days, including August 20.
"This project has given us the opportunity to collaborate with new and longtime partners on driving forward the standards for sustainable and cost-effective housing," says Erin Rank, Habitat LA President and CEO. "Innovation is key in building a greater Los Angeles, one project and neighborhood at a time."
The goal of the project is to improve the lives of the hardworking, limited-income family who will purchase this home, as well as the community beyond its walls. The property is located in the West Athens neighborhood of unincorporated LA County and the land was transferred to Habitat LA by the LA County Community Development Commission. The Office of LA County Supervisor Mark Ridley-Thomas generously made a financial contribution toward the project and is a longtime partner of Habitat LA's in working to strengthen communities through decent and affordable housing.
About Habitat for Humanity of Greater Los Angeles
Habitat for Humanity of Greater Los Angeles (Habitat LA) strives to eliminate substandard housing through advocacy, education and partnership with families and individuals in need to build decent, sustainable and affordable housing. Since 1990, Habitat LA has built, rehabilitated and repaired more than 1,000 homes locally and worldwide, transforming the lives of thousands of individuals. Habitat LA is a Guide Star® Valued Partner and has four consecutive Charity Navigator 4-Star ratings awarded to non-profits for sound fiscal management and commitment to accountability and transparency. Habitat for Humanity International recognized 14 affiliates out of more than 1400 as Affiliates of Distinction for 2015-2017 and Habitat LA is proudly one of them. For more information, please visit www.habitatla.org or call 310-323-4663.
Media Contact:
Ali Mullin
Habitat for Humanity of Greater LA
(310) 502-1269
amullin@habitatla.org