Habitat for Humanity of Greater Los Angeles (Habitat LA) celebrated Veterans Day throughout the week leading up to November 11, 2018, with a variety of events engaging and supporting current and former members of the armed services.

Wednesday, November 7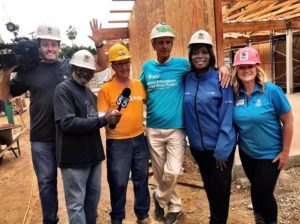 KTLA TV's Gayle Anderson came out to our Culver City construction site to interview David Snyder, a veteran and partner homeowner who will live in one of the ten homes we are building on Globe Ave. Snyder and his son currently share a one-bedroom apartment; the three-bedroom home we are building will include modifications to help ease Snyder's mobility and post-traumatic stress disorder. The new home will keep Snyder close to the VA hospital in Westwood, and ensures he and his son will no longer be displaced by rising rents.
Three of our regular volunteers who are also veterans— Tom Rooney, Bob Johnson, and Bilal Abdulhasan— were on hand to help make homeownership a reality for Snyder and his son. To view the coverage, please visit: https://ktla.com/2018/11/07/veterans-day-2018-habitat-for-humanity-of-greater-los-angeles/
Thursday, November 8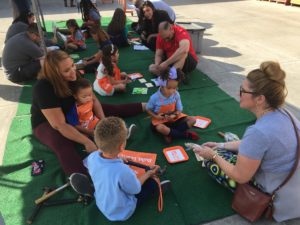 We took our Playhouse Build Program on the road to Compton, where 60 volunteers from The Home Depot joined our team in painting, assembling, and decorating seven fully-functioning playhouses. Once the houses were completed, the volunteers donated them to seven families of veterans or servicemembers with small children. The kids in each family thought they were coming to The Home Depot store to participate in a kids' clinic on tool use, so they were completely surprised when they saw their very own playhouses unveiled, and got to play inside them.
This Playhouse Build was part of The Home Depot's eighth annual Celebration of Service campaign to improve the homes and lives of U.S. military veterans and their families. Similar events in Chicago, Atlanta, and Miami helped the company surpass its goal of 100,000 hours of service in 2018. The Compton Home Depot volunteers also assembled 1,500 hygiene kits—which included a toothbrush and toothpaste, a razor and shaving cream, shampoo, deodorant, mouthwash, and other basic items—to be distributed to homeless veterans and some active duty service members.
Friday, November 9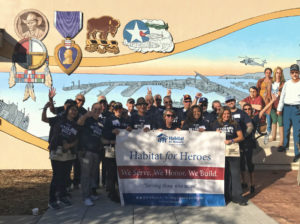 More than 200 volunteers, including active and veteran service members from all branches of the armed forces, joined us on the 27-acre campus of Century Villages at Cabrillo in Long Beach, where they painted, landscaped, and performed other exterior repairs to housing for Southern California veterans.
The volunteers included a group from Team Rubicon, which taps the skills of veterans and first responders in the wake of disasters and other emergencies. Clark Stinson, a former Army sergeant and paratrooper with the 82nd Airborne, was among the Team Rubicon crew. He's devoted more than 17 years in service to others, both in the military and out. Stinson currently works as a paralegal, and serves as a hotshot firefighter.
"I first got involved with Habitat in 2016 with The Mission Continues in Mansfield Tennessee," he said. Stinson has also responded to disasters in Missouri, Texas, Florida, Georgia, and North Carolina.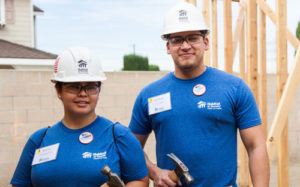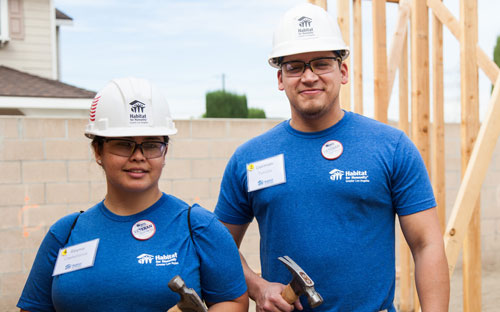 Since its inception in 2000, Century Villages at Cabrillo has provided supportive housing for more than 2,000 people annually, including more than 1,000 veterans. Veterans who earn less than $29,000 are eligible for furnished transitional or permanent single-room occupancy apartments at Century Villages at Cabrillo. US Vets, another nonprofit organization, has partnered with Century Villages from day one, providing veterans with services like counseling, meals, social activities, and job placement.
We are grateful to The Albertsons Companies and The Vons Foundation for their ongoing sponsorship of Habitat for Heroes, and to US Vets and Century Villages at Cabrillo for their partnership during this year's event.