Helping Communities Recover and Rebuild Together
Los Angeles, CA – June, 18, 2020: Habitat for Humanity of Greater Los Angeles (Habitat LA) launched the COVID-19 Emergency Relief Fund to provide emergency food, essential items, and financial resources to low and very low-income families in Greater Los Angeles affected by COVID-19 due to sickness, loss of income or self-quarantine. The ripple effect from the global pandemic, has caused uncertainty worldwide. Despite these changes, Habitat LA has committed to helping communities recover and rebuild together.
"Now more than ever, Habitat LA is essential for those among us who are marginalized, struggling to pay for housing, feeling unsafe in their neighborhood, who just lost an income due to layoffs," said Erin Rank, President and CEO, Habitat LA.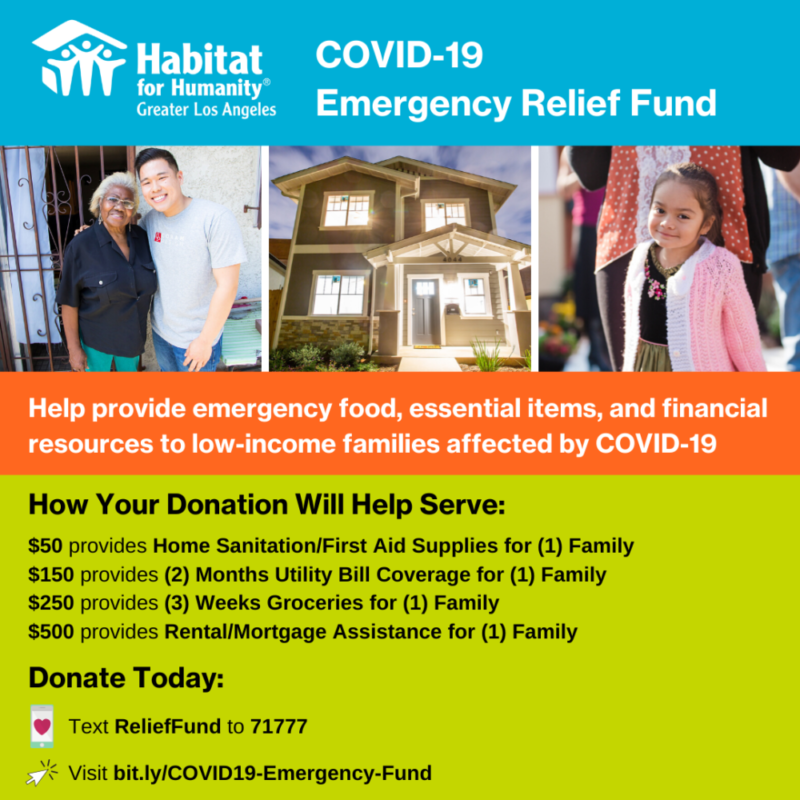 Many Los Angeles area households have lost their ability to earn income due to the closure of non-essential businesses. The families most at-risk are those that Habitat LA has served for 30 years – low-income, service or hospitality industry workers, single head of household, etc., many of whom already had inadequate financial reserves to weather a storm of this magnitude.  By partnering with local grocery stores, food banks and other social service agencies, Habitat LA's goal is to serve 1,000 households by assisting them with rental assistance, household assistance with critical bills (medical expenses), household groceries or critical items through fundraising efforts and community collaborations.
"While we are not physically together in our typical Habitat LA fashion at this time, we are coming together through our collective work to help low-income families in need," said Rank. "Thanks to our generous supporters, we have raised over $360,000 in the first seven weeks."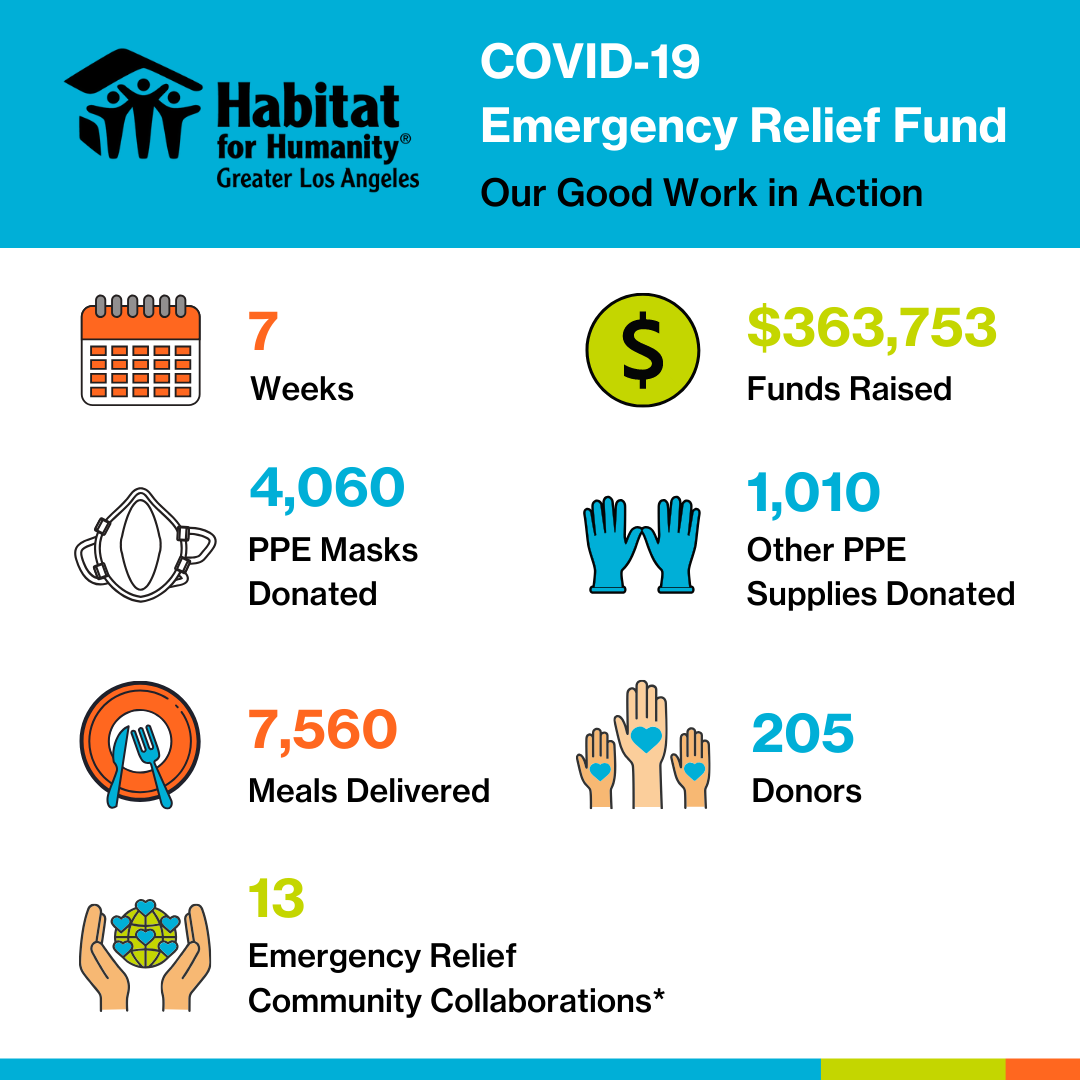 To learn how to get involved, visit Habitat LA COVID-19 Emergency Relief Fund.
About Habitat for Humanity of Greater Los Angeles
Habitat for Humanity of Greater Los Angeles (Habitat LA) brings people together to build homes, communities and hope. As the top nonprofit residential homebuilder in the greater Los Angeles area with Charity Navigator 4-Star rating every year consecutively since February 2012 and Platinum GuideStar status for transparency, Habitat LA has partnered with volunteers, donors and Habitat homeowners to build, renovate and repair more than 1,000 homes locally and worldwide since 1990. The lives of thousands of individuals have been transformed as a result of having a decent and affordable place to call home. Habitat homeowners help build their own homes and pay an affordable mortgage. By supporting Habitat LA through volunteerism, donations and supporting affordable housing, everyone can help families achieve the stability and self-reliance they need to build a better future. To learn more, visit www.habitatla.org.
# # #
Media Contact:
Genetric Brown
C: 310-808-5902
gbrown@habitatla.org