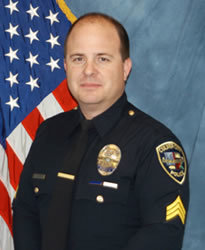 January 2019 will mark ten years since the communities of Pacific Palisades and Culver City lost one of their most beloved members. In the early morning hours of January 28, 2009, while driving his detective police unit back to the Culver City Police Station, Lieutenant Curtis Massey was killed by someone driving on the wrong side of the road. See the news coverage here.
Curt was proud to be a police officer, watching out for both his work community and his home community with diligence and honor.  In Pacific Palisades he is remembered not only as a native son, but as a good neighbor, for his devotion to helping others, lending a hand to anyone who sought his help.  Alphabet Streets neighbor Cathy McGowan said soon after Curt's death, "We always felt safer knowing Curt was our neighbor."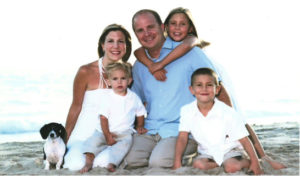 Curt was a loving husband to Melody and a devoted father to Emily, Nick and Christian.  Sr. Patricia Mc Gahan, former principal of Corpus Christi  High School (CCHS), affectionately remembers Curt after his night shifts pushing Christian in the stroller as he walked Emily and Nick to school just so Melody could have a little break. Curt guided the administration in developing a school safety plan that would keep his and everyone else's children safe. "No one knows how generous to us that man was with his time," Sr. Patricia says.
As a child, Curt attended St. Matthew's Parish School and developed life-long friendships with many who now teach at and lead the same school community.  Bruce Harlan, childhood friend and principal of St. Matthew's School recalls working with Curt at St. Matthew's Day Camp.  "Curt brought energy, joy and innovation to the camp program. He loved designing the overnight adventures for the campers—the format and ideas still used and a favorite memory for decades of campers. Curt always had fun and he brought joy to the whole camp."
Curt was the first School Resource Officer for the Culver City Police Department in the Culver City School District. As a juvenile detective he reached out to the parents of kids in trouble, seeking solutions, using prosecution as a last resort.
Steve Gyepes, a Pali High Classmate (1983), worked with Curt as a school counselor and assistant principal at CCHS.  He was inspired by Curt's example of living everyday with enthusiasm, integrity, and love. Ten years later Steve reports, "I find myself visiting his memorial on our campus and reminding myself how we all need to follow Curt's example and passion."
Shortly after his death it was said that Curt Massey "did not just observe the world—he took positive steps to better the lives of others."
In remembering Curt ten years after his untimely death, Melody, his widow, is proud to have Curt's legacy associated with ten homes for ten families whose lives will be forever changed for the better as they become first-time homeowners in Culver City—a community so close to Curt's heart.