Posted by: Morgan Mullin, recent graduate of University of Washington & ReStore fan
$10 desks?  $15 nightstands?  I was in a college student's dream store.  Habitat for Humanity's ReStores quickly became my go-to furniture shop.
I was first introduced to the ReStore during my freshman year at the University of Washington, while interning for Starfish PR and working with Habitat LA.  I was taken to the ReStore after one of their build events and could not believe my eyes.   They not only had everything I could imagine needing for my future apartment, they had it all at unbelievable prices.  My inner student couldn't contain my giddiness. The first question I asked was "do they have these in Seattle?" I knew the moment I was back at school I would head straight to my local ReStore to find décor for my new apartment, and that is exactly what I did.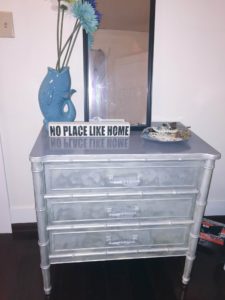 I made sure my car was cleared out as I headed to downtown Seattle and filled my car up to the brim.  I spent $10 on a perfect, spacious white desk that became my desk for the duration of college.  I loved that piece of furniture and its amazing price even if it was the scene of many rough all-nighters! Oh well, that's college, right?  I can't blame the desk.
I also bought a beautiful night stand that I feel was the true treasure! It was dark, chocolate brown wood, a perfect fit for my room and looked like it it was at least $100 but not at the ReStore! It was only $15! I still can't believe it, and thankfully I have no bad memories of that night stand!  In fact, it is nothing but good memories because it held the lamp that I would turn off when I finally would get some sleep.  (P.S.A.: a college student's favorite hobby is finally being able to SLEEP!)  Lastly, I bought the cutest turquoise accents that have actually made it back home with me to my Southern California room.
As happy as I am with everything I purchased from the ReStore, by far the best part is the gratifying feeling knowing that I am helping Habitat for Humanity build more homes in local communities. My fellow college students, I urge you to head to your nearest ReStore.  You will not regret it and you will leave a lasting impact in your community for generations to come! To find the ReStore nearest you, visit www.habitat.org/Restore