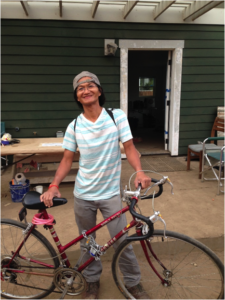 Pok Khem, our August Volunteer of the Month, has been helping Habitat for Humanity of Greater Los Angeles (Habitat LA) since October 2017. He first started volunteering through a build day with his company and returned after seeing the direct impact his work would have on families who needed permanent housing.
According to Pok, "I was hooked on the first day." With no construction experience, Pok has been learning a new trade while volunteering and has shown dedication and enthusiasm for the work.  Beyond these skills, he has gained new friendships with other volunteers. He finds the work rewarding and is excited to be a part of Habitat LA.
Along with volunteering for Habitat LA, Pok also volunteers with the local homeless shelter. His love for cooking has given him the opportunity to prepare warm meals at the shelter twice a week. He looks forward to offering help to people in need. Currently Pok is enrolled in culinary school and plans to be a chef at a major hotel or a large event catering service.
Pok came to America as a child from Cambodia in 1984. At that time, he and his family started their new life in Houston, Texas. Although he grew up in the United States, he returns to Cambodia often to visit family.
Nicole Jordan, Habitat LA construction supervisor, nominated Pok as the August Volunteer of the Month and said, "Pok is awesome to have on the construction site. He's always willing to help everyone and you can tell he enjoys being part of the volunteer team."
Thank you, Pok, for your support!  Habitat LA would not be able to do our work without incredible volunteers like you!  For more information on volunteering with Habitat LA, visit our web site at: https://www.habitatla.org/