For Dana Treister, giving back is in his blood. He was moved to join Habitat for Humanity of Greater Los Angeles (Habitat LA) after witnessing firsthand how a Habitat had impacted families and transformed his own community. We are grateful to Dana for his ongoing support and for also serving on this year's Los Angeles Builders Ball Host Committee. Read on to learn more about Dana and what drives him to serve others.
What or Who inspires you (or motivates) you to give back in your community?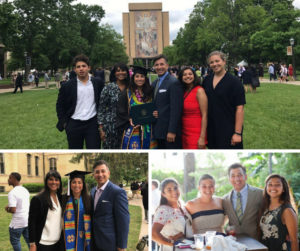 I think it was my mother who inspired me to give back. She was involved with many causes and sat on many boards, and I've had countless people tell me over the years how touched they were by her generosity and compassion.  She died far too young, so I am hoping to play some small role in the continuation of her legacy.
Why do you support Habitat for Humanity? How long have you been involved?
I am new to Habitat, this is my first year with the organization, but I have long been familiar with the great work it does in the community. Recently, a Habitat project was built in the neighborhood where I grew up in Pasadena. The impact that Habitat has, not only on the families that directly benefit, but also on the neighborhoods where they the homes are built, has inspired me to get involved.
Do you have a superpower?
I don't but I'm pretty sure my wife has several. I rely on those.
What does "home" mean to you?
Home is where family resides and life's most special memories are created. It is where we come together to share our experiences and celebrate our most important relationships.
More about Dana Treister
Dana Treister is a Partner in the Real Estate department at Seyfarth Shaw LLP. He focuses his practice on real estate transactions across all 50 states, with an emphasis on the acquisition and sale of commercial properties, real estate finance, land use and entitlement work, and complex ground lease transactions. He has recently counseled clients in connection with a variety of development projects, ranging from historic rehabs to ground-up construction, especially in the hospitality area. Dana also has extensive experience representing parties in the formation of joint ventures and in structuring tax-advantaged real estate transactions. In recent years, Dana has represented both borrowers and lenders in both on-balance sheet and conduit loan transactions, and has coordinated the defeasance, re-financing and restructuring of existing debt instruments.
Builders Ball 2018 was a great success, if you are interested in contributing more to Habitat LA's mission, click here!