As we continue to shine a light on the volunteers who bring our annual fundraiser, The Los Angeles Builders Ball, to life, this week we invite you to get to know Araceli Villegas. Araceli has volunteered with Habitat for Humanity of Greater Los Angeles (Habitat LA) for several years and currently serves as a member of our Board of Directors. We are grateful for Araceli's support and are thrilled to have her on this year's Builders Ball Host Committee.
Read on to learn more about Araceli and why she is so dedicated to Habitat's mission.
What or Who inspires you (or motivates) you to give back in your community?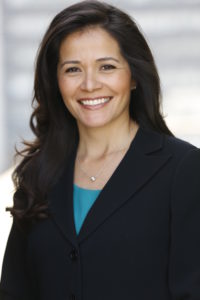 The families affected by Habitat for Humanity inspire me most. I've seen the proud look in a family's eyes when they get the keys to their very first home. I imagine the family sitting around the dinner table and sharing stories which will last them a lifetime. The home they literally build together is their safe place to build lasting memories.
Why do you support Habitat for Humanity? How long have you been involved?
I have been on Habitat LA's Board of Directors for over a year. I support the organization because of its longstanding impact on each and every family. Habitat has done so much to help local families through homeownership and building up the surrounding communities.  The organization has a great leadership team, which goes above and beyond to make their mission a success.
Do you have a superpower?
I'm a mom.  That comes with many superpowers.
What does "home" mean to you?
It's a place where my family and I share time, space and create lasting memories.
More about Araceli Villegas
Araceli Villegas is Ringstar Sports' Vice President responsible for all areas of global media for major boxing events worldwide. Her areas of responsibility include the international television syndication of Showtime Championship Boxing, Premier Boxing Champions, and Mayweather Promotions boxing events which take place throughout North America, South America, Europe and Asia. In 2015, Villegas was responsible for the international television sales for the highest-grossing sporting event in history, the world championship boxing event, Mayweather vs. Pacquiao. Ringstar Sports is drawing on Villegas' 19 years of experience in the sports and entertainment industry to build Ringstar Sports' international television business and explore new strategic opportunities for the sport. Prior to joining Ringstar Sports, Villegas had been in various management positions at Golden Boy Promotions, NASCAR and Fox Sports International. Villegas held the position as Vice President, International Television for Oscar de la Hoya's Golden Boy Promotions. During her tenure, Villegas created the international television syndication division at the boxing promotional company. With her leadership, Villegas launched key strategic partnerships with major broadcast partners around the world. While at NASCAR, Villegas was responsible for negotiating worldwide syndication agreements and for developing NASCAR's international business. During this time she developed a worldwide distribution strategy for NASCAR which helped the company expand its international television distribution to more than 175 countries, expanded its racing series into Canada and Mexico, and was on the executive team to launch strategic partnerships to operate NASCAR Canada and NASCAR Mexico. Her career began at Fox Sports International in Los Angeles, where she managed the marketing and on-air promotions for the Latin American channel. Villegas holds a bachelor's of science degree from Loyola Marymount University and a Masters in Business Administration from the University of Notre Dame. In 2014, she was awarded Sports Business Journal's Forty Under 40 Award which identifies and honors the most promising young executives in sports business under the age of 40. She sits on the Board of Directors for Habitat for Humanity, Greater Los Angeles. Villegas resides in Los Angeles with her husband, Miguel, and two children, Miguel Angel (10) and Alejandro (8).
Builders Ball 2018 was a great success, if you are interested in contributing more to Habitat LA's mission, click here!